Getting to Lagacio Mountain Residence might have taken me all day in travelling but it was definitely worth the trek. I flew from Glasgow to Gatwick, Gatwick to Verona. From Verona Airport I caught a cab to the train station, where I caught a train to Bolzano, a two hour journey. At Bolzano, the lovely Barbara Burger was waiting to whisk me off to the Residence, a journey which took a further hour and a half. And quite a scary journey, the mountain roads, in the dead of the night can be quite frightening. But also the most magical part of the journey so far¸ quite breathtaking, the lights twinkling away in the valley below us.
We arrived after midnight and there was just time to grab a snack and a lovely chilled glass of local bubbly, Arunda brut, at the bar. And also a chance to briefly meet the owner Pio Canins to be welcomed to the Residence.
After a long day of travelling it was time to hit the sack. I was shown to my room which was just perfect in all its simplicity. Interestingly I noticed at the door of my suite that it was named after a fossil which was encased in glass. The suite resembled the farmhouses of Alta Badia. Old wooden beams and boards have been made part of modern living. The balconies recall the shape of ancient hay lofts. The "timbered-box" annexes that enlarge the living areas in the suites are reminiscent of how old farmhouses were often simply expanded by adding outbuildings if more room was needed.
Day One
I woke up refreshed; upon opening my curtains I discovered the most stunning views of the Dolomites, truly breathtaking. I could have spent the entire day, sitting on the terrace, and staring at the awe-inspiring view.
Instead of going for breakfast I decided to do just that, soak in all the beauty and enjoy the tranquillity. I ordered room service and spent the good part of the day out on the terrace staring at the impressive peaks of the South Tyrolean Dolomites. The mountains were made a World Natural Heritage site by UNESCO in June 2009 - the mystical world of legends, the unique blend of Man and Nature. And I had the pleasure of enjoying the harmonious ambience and the magnificent vista.
All too soon it was time for my massage at the spa. Being a huge fan of Ayurvedic treatments. I was very happy to learn that the spa offered them. I booked in for Ayurveda Massage Abhyanga, a fifty minute massage. Abhyanga is an ancient massage using warm precious vegetable oils. It is tailored to release new energies and also to enhance well-being and harmony.
The spa at Lagacio is named La Palsa which is a Ladin term which means relaxation. The spa takes its inspiration from the curative forces of the mountains and the sea, and there is a sensuous atmosphere of tranquillity and harmony that you feel as soon as you enter the Spa.
After my lovely massage I still had a bit of time to a squeeze in a quick manicure.
Relaxed and refreshed I met the rest of our party for drinks at the bar. It was also an opportunity to meet our hosts, Pio and Margareth Canins.
Lagacio Mountain Residence is their vision finally realised. The husband and wife team turned their run-down apartment house into this beautiful residence. Their vision was that they didn't want a run of the mill hotel, they wanted something unique. A place affording unpretentious luxury, a place for people to unwind, to withdraw from into themselves to give free rein to their inner strengths. It took them three long years to see their plans finally come to fruition, but it's clear to see that they have achieved their goal.
The architecture and elegant design throughout the Residence is outstanding. Attention to detail is a credit to both Margareth and Pio. It is clear to see that this is truly a work of passion.
The Residence offers breakfast and snacks, but not lunch or dinner, as there are a variety of options in the region.
Our first evening we went for dinner with Andrea Irsara at the Gourmet Hotel, Gran Ander. The chef Andrea misled us into thinking we were to make our own dinner by presenting us with aprons upon our arrival; thankfully it was all a rouse! And he prepared and cooked our dinner.
We were led out to the terrace area of the restaurant, the views were breathtaking. Andrea and his father then made the most amazing simple pizzas in an outdoor stone oven. We were famished and this simple dish was very appetising. We were served many small aperitifs local to the region accompanied by a lovely local bubbly Arunda Brut Cuvee Marianna.
It started to get a little chilly so we headed indoors, after a wee tour of the kitchen we looked on as Andrea prepared our starters. Andrea is very efficient and entertaining in the kitchen, and had his dad on hand to help him out, the perfect chef!
For starters we were served Pressknodel - pressed cheese dumplings with cabbage salad. Very enjoyable, for a cheesehound! The main for the meat eaters was Braised calf shoulder with mashed potatoes and vegetables which is very typical of the region. I opted for the vegetarian dish which was equally as yummy.
The dessert of Strudel-tortelloni filled with apples on "Golden Delicious" Julienne with Williams pear - jelly and Swiss Pine - ice cream, meant we were so stuffed we had to be rolled home! Super delicious.
Day Two
Time for a quick breakfast before we took on the task of mountain climbing! We took a short drive to head out into the mountains, then we tackled the mountain on foot. Thankfully we started at a slow steady pace. It was definitely worth it when we got to the top, the views were truly spectacular, and we had a very good guide, Pio indicated all the points of interest that the mountainside had to offer and also very kindly showed us around his beautiful mountain lodge, Storesalm. Pio and the family spend most weekends here and its clear to see why, it has breathtaking views and is so peaceful you could hear a needle drop. Tranquillity and relaxation what's not to like!
Lunch at the Edelweiss Valley was splendid, especially after our morning hike, we were all ravenous, and the food was lovely and filling, it hit the spot. But most spectacular of all was the truly amazing view of the Pisciadu via ferrata and the Boe peak.
After lunch we went back to the hotel to relax a while before heading out for dinner!
Our last evening in Alta Badia, and we were taken out for dinner at a local restaurant, a favourite of the Canins family, the traditional Maso Runch, a Guesthouse at Pedraces which serves typical Ladin dishes. The Farm is situated at the foot of the Natural Park, Puez Odles and is surrounded by meadows and woods over the Badia village, Pedraces. Go hungry! because the Nagler family do not believe in small portions. For starters we had a barley soup, with Tyrolean ravioli with spinach and ricotta. After this we didn't require any mains, but there is no such thing as refusing food in the Ladin culture! The main course was pork shank, pork ribs served with polenta and cabbage; I opted for the vegetarian course which was spinach and ricotta dumplings. Despite being so full we somehow managed to find space for dessert, an apple strudel served warm with ice cream.
Back to the Residence for our last night. We were sad to leave Lagacio; our visit had been far too brief. Pio, Margareth, their family and the residence team had shown us outstanding hospitality. The location, the views, everything Lagacio has to offer is fabulous. It's truly inspiring. We bid our tearful goodbyes and headed home, vowing to return one day in the near future.
www.lagacio.com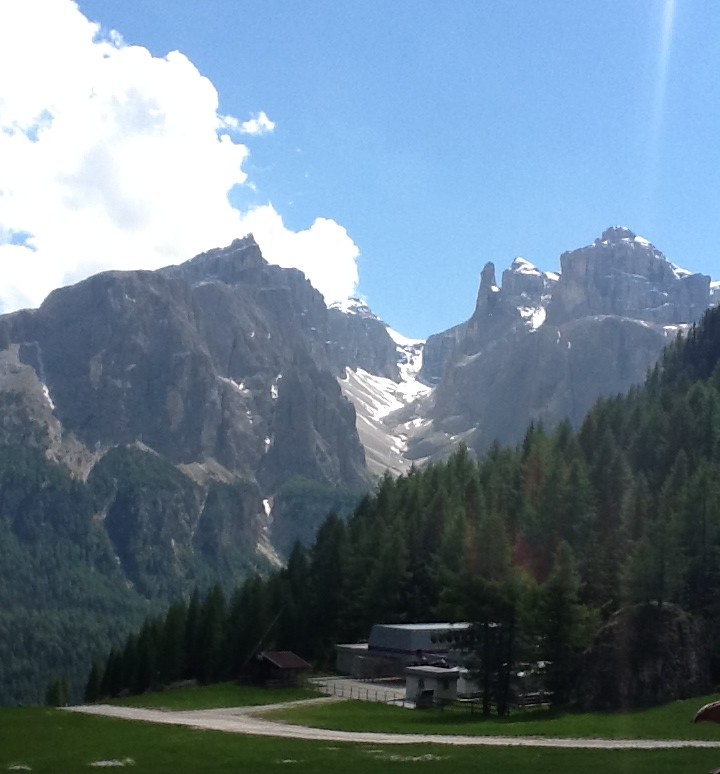 THE MAGNIFICENT DOLOMITES

CHEF ANDREA IRSARA hard at work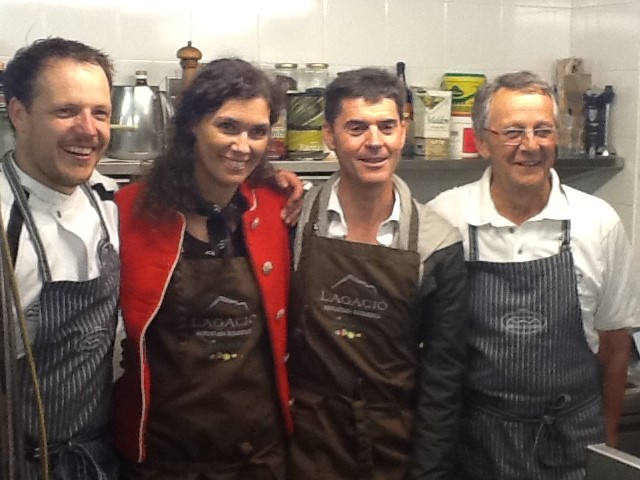 CHEF ANDREA, PIO & MARGARETH CANINS, Chef ANDREA's dad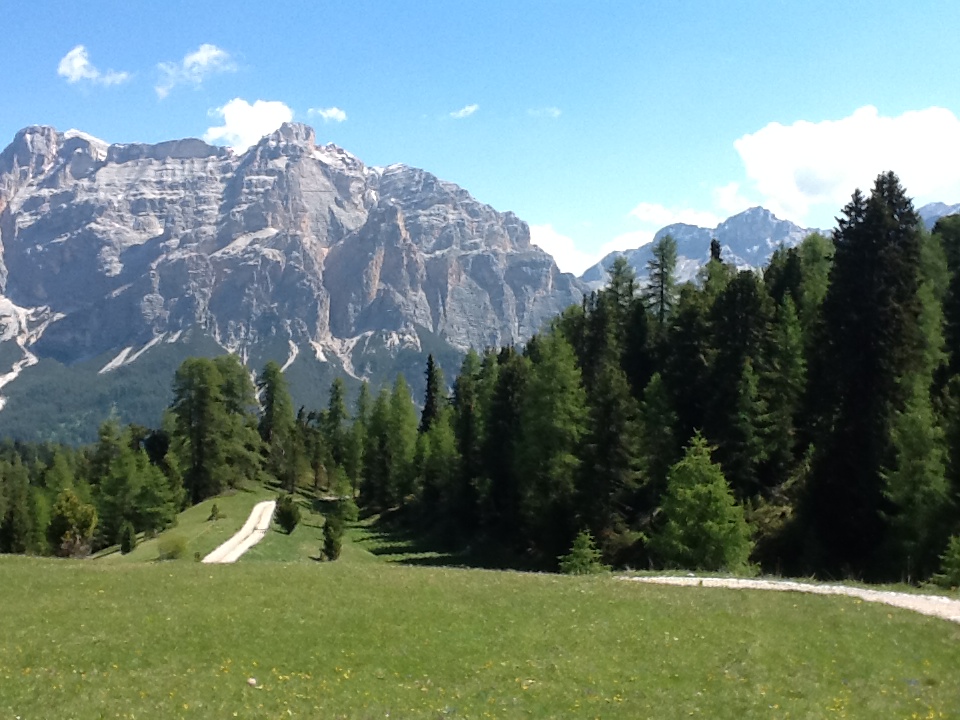 THE MAGNIFICENT DOLOMITES
SUBSCRIBE AND FOLLOW
Get top stories and blog posts emailed to me each day. Newsletters may offer personalized content or advertisements.
Learn more