David Cameron Pledges Zero Tolerance Approach To Gangs As He Clashes With Police Over 'Supercop'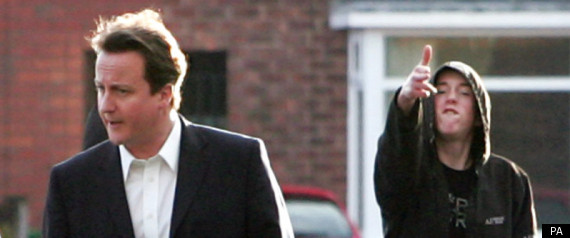 David Cameron has vowed a new "zero tolerance" attitude to gangs as opposition towards his appointment of US Supercop Bill Bratton grows.
In his first interview since the UK suffered four nights of rioting he told the Sunday Telegraph there was a simple answer to the violence and pledged to crackdown on crime: "I think there is a danger sometimes of people seeking very, very complicated answers when there are quite simple [explanations] … these people who were nicking televisions were not complaining about the reform of the education maintenance allowance or tuition fees.
"They were nicking televisions because they wanted a television and they weren't prepared to save up and get it like normal people."
His comments came as Sir Hugh Orde, the president of the Association of Chief Police Officers told the Independent on Sunday he advocated a different approach: "I am not sure I want to learn about gangs from an area of America that has 400 of them. It seems to me, if you've got 400 gangs, then you're not being very effective. If you look at the style of policing in the States, and their levels of violence, they are so fundamentally different from here."
The prime minister told the Sunday Telegraph he still plans to press ahead with cuts to police budgets and plans for elected police commissioners.
But a ComRes poll for the Independent on Sunday/Sunday Mirror showed 70% of Britons thought it was time to reverse police cuts in London.
Half of those surveyed said they believed government cuts were helping fuel the rioters.
Labour's Yvette Cooper also condemned the move saying: "Promising the police will take a zero tolerance approach to street crime at the same time as cutting the officers they need to do the job is not leadership.
"Ten years ago, action by the police, the Labour government, communities, councils and the courts did bring street crime right down from unacceptable levels. But that was done through partnership with the police and involved more and more officers on the beat.
"Cutting 16,000 police officers will do nothing to combat gangs and street crime and increases the risks to law and order. The Prime Minister and Home Secretary will have no credibility with belated promises on crime as long as they are committed to such big cuts to policing. If they want to get serious on crime they need to rethink their plans now."
The metropolitan police has now arrested 1,401 people in connection with the rioting and 808 of these have been charged. Acting commissioner Tim Goodwin has predicted 3,000 people could be charged as the investigation into the disorder continues.
The news comes as two suspects prepare to appear in court over the murder of three men in Birmingham on Tuesday evening.