Simon Bird, Joe Thomas, James Buckley, Blake Harrison Star In 'The Inbetweeners Movie'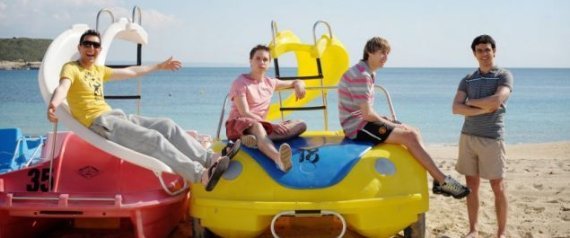 "These boys are nothing special, they're not going to have amazing experiences, just ones that people would have in real life," explains Inbetweeners star Joe Thomas (who plays Simon).
He and his three schoolmates are venturing on to the big screen this week, which means for the on-screen quartet breaking free of Rudge Park Comprehensive and heading off on holiday.
RED CARPET REPORT: Inbetweener Boys stunned by film premiere crowd
For the actors, there has been little difference between making the popular series and working on the film-set.
"We just turned up, mucked about and made each other laugh, which is what we'd been doing for years," says James Buckley (aka Jay). "It didn't dawn on me it was a film until we actually watched it."
For writers Iain Morris and Damon Beesley, though, it was imperative that the film was able to stand alone as a production
"We didn't want to completely start from scratch," explains Beesley. "The film starts in Britain at school, so the characters are introduced to anyone who hasn't seen the show."
So why make the film rather than another series to continue the story?
"We started these boys on their first term at sixth form and ended it on their last term," explains writer Iain Morris. "Those characters have grown in popularity, and people want to see what they'll do next.
"Just as Will joined this bizarre new world at the beginning of the show, now we're seeing the four of them entering another, with sights, sounds and a weird holiday without their parents, all four of them fish out of water, which meant scaling things up."
Putting things on a grander scale has pushed the foursome into what Damon Beesley calls "traditional US-spring break comic movie territory" (think American Pie, Superbad).
Making a British version of this means sending the intrepid foursome to Malia, Crete, what Beesley describes as "archetypal strip of bars leading down to the beach, and thousands of Brits determined to have a good time".
"It just felt like the place where the characters would have gone," he explains. "It wasn't a hardcore Ibiza clubbers' venue, it just felt a bit less cool than Ibiza."
"At this moment Malia is that place, our editor's son went out there after his A-levels with 150 people, there was no question of going anywhere else.
"My 18-year-old sister also went there," adds Beesley. "She's posted a lot of photos on Facebook, and my 40 year old self is a bit appalled by the slogans on some of the boys' T-shirts."
There is a necessary distance between the people writing the material and the people they're writing about, as Thomas explains:
"It's written by guys who have had quite a bit of time to get over these experiences and find them funny, it would be heartbreaking to be totally candid about your limitations as a teenager when you're still too near it."
Some things, though, can still be painful for Buckley - as he reports with a wince:
"There's a scene where Jay gets his swimming shorts pulled down, and I was just too embarrassed, so they had to get some 'special effects' for this scene. I think people were a bit annoyed that I wasn't a team-player in that situation, and it probably cost quite a bit. I'm not like Joe, who will just do anything if he thinks it's going to be funny."
Thomas is much less inhibited, as proven with some semi-nudity on the TV show already. "I do tend to just say yes to stuff, probably too many things in my whole life, but it doesn't bother me. I have that thing where I think it's not me, it's the character."
Is this the end of The Inbetweeners?
"It feels like it's come to a natural conclusion," says Blake Harrison (Neil in the film and series), so that works professionally, but on a personal level, we're definitely going to miss working with each other."
At the same time, for all four actors, there is an inevitable sense that the film marks a big change in their characters' lives which means going out on a satisfactory note.
"They don't learn very quickly or much in the series," reflects Thomas. "But in this film, reality bites half-way through, there's no get-out with parents to give them a lift home, so it's all a bit more dramatic in that sense.
"You wouldn't have time to do all that in one episode. By the end of the film, hopefully they've become aware that they need each other."
The Inbetweeners is in cinemas across the UK from Wednesday 17th August.
WATCH: