GCSE Results Set Records But Spark Row Over Decline In Modern Languages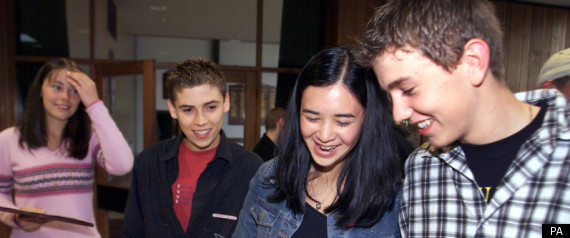 Today's GCSE results have set new records for the highest pass rates but have sparked a debate between political parties and unions about the future of GCSE students.
Almost one in four (23.2 per cent) of entries scored at least an A grade, up from last year's 22.6 per cent. Nearly seven in 10 exams were awarded a C or above, according to figures published by the Joint Council for Qualifications (JCQ).
The report from the JCQ also shows the gap between boys and girls exam grades has widened - in contrast to last week's A-level results which showed boys were catching up with their female classmates.
The difference between the genders is most noticeable in the top grade bracket. At A* to A grade, 26.5 per cent of girls achieved the top two grades compared to 19.8 per cent of boys. This 6.7 per cent difference is the largest since the A* grade was introduced in 1994.
The shift away from modern foreign languages continues to increase. Entries for both German and French decreased by 13.2 per cent since last year. Spanish was down 2.5 per cent- the first decrease in students taking the language at GCSE level since 2006.
General secretary of the National Union of Teachers Christine Blower said: "The fact that modern languages continue to decline is disappointing, especially taking into account our place in a global society and economy. This issue needs to be addressed in the government's review of the National Curriculum in order to reverse this extremely troubling trend."
But Conservative MP Elizabeth Truss hit back. Insisting the government is doing all it can to promote the study of 'core' subjects at GCSE, she said: "We know sciences and languages are right up there among those that business and universities value most. Labour's policy of steering pupils away from the sciences and languages continued right up until the end of their time in government. That is precisely why the coalition government has introduced the English Baccalaureate, which will play a crucial role in driving back up the number of pupils taking core academic subjects.
"Today's figures reflect the achievements of pupils who selected their GCSEs in 2009, before the Coalition government came to power and the English Baccalaureate was announced."
Andy Burnham,Labour's shadow education secretary echoed the NUT's views that the government needed to up their support young people in education. He said: "Young people are being kicked in the teeth by the Tory-led Government which is stripping away the support they need to get on in life.
"David Cameron's failure to keep the education maintenance allowance means thousands of young people will today be agonising over whether they can afford to continue in education or training. To add insult to injury, the Government is also taking away the advice and guidance young people need to make sense of a competitive world.
"It is time for the government to think again and start supporting young people."