Melanie Griffith, Antonio Banderas Reveal Toll On Marriage Of Her Addictions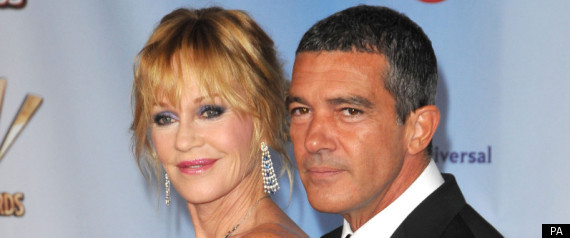 PRESS ASSOCIATION -- Melanie Griffith has revealed she wishes husband Antonio Banderas could understand her addictions.
The Hollywood couple have been married for 15 years and have one daughter together. They have both given separate interviews to AARP The Magazine about their marriage, and spoke about Griffith's third trip to rehab two years ago.
Griffith: "Antonio was supportive to the extent that he can be, but if you're not an alcoholic or drug addict, and you find out that your wife is a bad one, it's hard to deal with.
"I wish he would go to a meeting with me or to Al-Anon, but it's very foreign to him. Addiction runs in my family but not in his."
She added: "I don't mean that against him. I would like him to do more, but it's a difficult thing to have happen in any family, and in that way he has been totally by my side. He really is the greatest guy."
Banderas, 51, said of their marriage: "We have had as many problems as anybody. We've never hidden it. We've been open about addictions, in the case of Melanie."
On her trip to rehab he said: "The whole family participated. We did all the therapies together - the kids, everybody. It was a very unique experience, not only for Melanie."
But Griffith said: "I'm sorry to say, that's in his mind. I started on pain pills when I hurt my knee skiing and just kept taking them. The kids knew; they called me on it. Antonio was in London at the time.
"I went away to rehab for three months; it took 10 days just to detox. We had two family weeks there, but we didn't follow through."