BAE Systems: Defence Giant To Announce 3,000 Job Cuts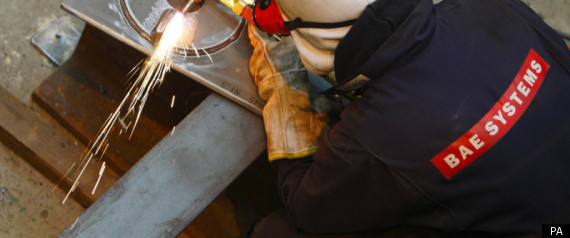 PRESS ASSOCIATION -- Defence giant BAE Systems is set to end days of speculation by announcing around 3,000 job cuts.
Union leaders have expressed fury that workers at the firm have been kept waiting for confirmation of the job losses in the wake of the Government's defence cuts.
The job losses are expected to be mainly at sites in its military aircraft division in Warton and Samlesbury in Lancashire, and Brough, East Yorkshire.
There is speculation that 900 jobs will be cut at Brough, 820 at Warton and 560 at Samlesbury, with hundreds more at smaller BAE sites.
The company said in a statement: "BAE Systems has informed its staff that we are reviewing our operations across various businesses to make sure the company is performing as effectively and efficiently as possible, both in delivering our commitments to existing customers and ensuring the company is best placed to secure future business.
"Whilst there has been a lot of media speculation it has always been our intention to communicate the results of the review to employees as a priority, and this will take place on Tuesday September 27."
Union officials said the Government's defence cuts were to blame for the job losses, which they described as a "hammer blow" to manufacturing, as orders for the Eurofighter Typhoon combat jet slow down.
Paul McCarthy, regional officer of the GMB, said it was a "disgrace" that workers heard via a leak to the media over the weekend that thousands of job losses were imminent. "We are going to ask the company to launch a formal investigation to establish who leaked this information."
BAE has a 33% stake in the Eurofighter joint venture company alongside EADS and Finmeccanica and has received orders for 550 planes from the four partner nations involved - the UK, Germany, Italy and Spain.
Earlier this year BAE Systems said around 2,000 workers would leave voluntarily or move to other jobs in the company, but there will be 450 compulsory lay-offs at several military sites across the UK, including Woodford, near Manchester, Farnborough in Hampshire, RAF Kinloss in Scotland, RAF Cottesmore in Lincolnshire and Brough in East Yorkshire. The cuts were blamed on decisions such as the scrapping of the Nimrod and the accelerated retirement of the Harrier aircraft.