Britain Set For Hottest October Day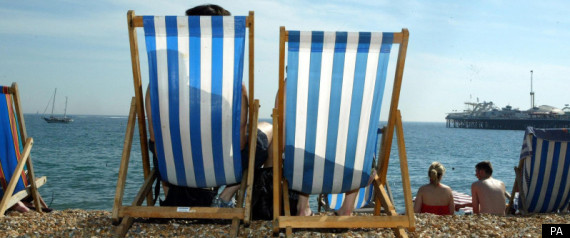 PRESS ASSOCIATION -- Parts of the country are set to sizzle again as Britons prepare for what could be the hottest October day on record.
Forecasters predict temperatures of around 29C (84.2F), in the wake of the warmest end to September for more than 100 years.
The current record for the hottest October 1 was set in March, Cambridgeshire, in 1985, where temperatures reached 29.4C (85F).
Tom Tobler, a forecaster with MeteoGroup, the weather division of the Press Association, said: "Today will be another hot and mostly sunny day for England and Wales, but Scotland and Northern Ireland will see some heavy rain.
"The maximum temperatures for Saturday are 28C (82.4F), possibly 29C (84.2F) in places. There's a chance of beating the record. Cloud could keep the temperatures down, but they (temperatures) will be highest in eastern England."
Records were broken across the country on Friday, with a temperature of 29.2C (84.6F) recorded mid-afternoon in Cambridge, smashing the previous high of 27.8C (82F) recorded in Maidenhead, Berkshire, on the same day in 1908.
Sutton Bonington in Nottinghamshire also recorded a temperature of 29.2C, equalling the record set in Cambridge.
Those jetting off on holidays in search of sunshine may well find temperatures at home are just as good as those abroad.
Heathrow Airport can usually expect to see temperatures around 19C (66.2F)in September, and 15C (59F) in October. But yesterday saw the mercury peak at 28C (82.4F) there - 10C (50F) above average. In Spain, temperatures of 29C (84.2F) have also been seen, while in Greece they ranged between 26C (78.8F) and 28C (82.4F).
Forecasters expect the weather to remain warm until the beginning of next week.