Unlucky Black Cats Left At Rescue Centre In Run Up To Halloween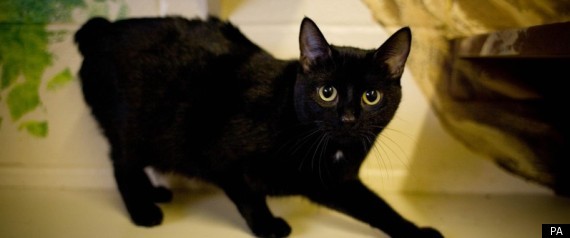 An animal sanctuary in Shropshire has said it is "inundated" with black cats because of superstitious potential owners.
RSPCA Gonsal Farm animal centre in Dorrington is labelling October "black cat awareness month" to encourage the public to adopt one of its sooty felines.
At the moment, over half of the cats and kittens at Gonsal Farm are black, with 37 of the 60 cats coloured black. The amount of black cats coming into the rescue centre has increased towards the end of September and into October, according to Cattery supervisor, Kirsty Martuccio.
She told Huffington Post UK: "People go for the 'prettier' cats like tabby-cats or tortoiseshells. They think black cats are bad luck and have said that they remind them of witches."
"If anything black cats are friendlier than some of the other cats, it is tortoiseshells that tend to be cheeky, that's why they are called 'naughty torties'.
"I hope that this [black cat awareness month] will encourage people to rehome black cats."