Eurozone Crisis: French And German Officials Discuss Breakup Of The Eurozone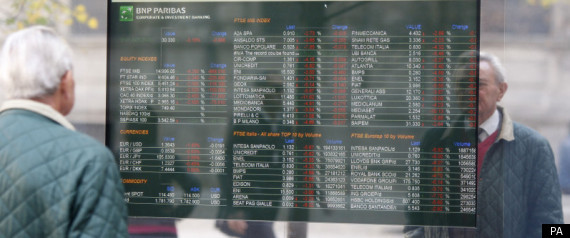 The European sovereign debt crisis could be entering a new and dangerous phase, with political upheaval in Greece and Italy forcing regional leaders to consider a reshaping of the eurozone.
According to reports, officials in Paris and Berlin have already discussed creating a smaller yet more integrated eurozone.
"France and Germany have had intense consultations on this issue over the last months, at all levels," a senior EU official in Brussels told Reuters, while German Chancellor Angela Merkel has called for closer political ties from the eurozone members.
"Because the world is changing so much, we must be prepared to answer the challenges. That will mean more Europe, not less Europe," she said.
On Thursday, European Markets dropped as Italy moved closer to a bailout. The FTSE 100 opened down 1.8%. Spain's IBEX was down 1.5% and Italy's MIB fell by 1.4%. Germany's DAX opened down 1.7%, and France's CAC dropped 2.1%.
Earlier, Asian markets also opened down. Japan's Nikkei index had fallen by 2.9%, South Korea's Kospi shed 3.8% and Hong Kong's Hang Seng index dropped 5.3%.
With the economic crisis mounting, José Manuel Barroso, the president of the European commission, has urged European leaders to become more united.
"We are witnessing fundamental changes to the economic and geopolitical order that have convinced me that Europe needs to advance now together or risk fragmentation. Europe must either transform itself or it will decline. We are in a defining moment where we either unite or face irrelevance," he said.
On Wednesday, the crisis in the eurozone deepened as Italy headed towards a bailout that the European Union can ill afford, despite the announcement that Silvio Berlusconi would resign as prime minister.
If Italy tried to borrow money today it would have to pay an interest rate of over 7%, the level at which Greece, Portugal and Ireland were forced to seek a bailout.
But while those three countries have relatively small economies, Italy presents a much larger problem for the European Union and there are concerns that it is 'too big to save'.
Italy, the eurozone's third largest economy, has a debt of 1.9 trillion euros and needs a rescue package of 1.4 trillion euros. But the eurozone rescue fund is currently only 440bn euros.
There is a growing consensus amongst analysts that the Italian situation has pushed the world economy into a dangerous place, and confidence is very shaky.
Much of the problem appears to be connected to the market's uncertainty over the political situation in Rome. Berlusconi has insisted he will remain in place until the parliament passes austerity measures designed to get to grips with Italy's debt problem.
The timing is now critical. Italy's finance bill is now expected to be in place within days before markets open on Monday morning, and Berlusconi, if he sticks to his word, will resign immediately afterwards.
If a technocratic government is named, which some believe is likely, then the markets may be satisfied and Italy could avoid insolvency.
On Wednesday evening Italian president Giorgio Napolitano named former EU commissioner Mario Monti a senator for life - perhaps paving the way for him to take charge of a national government following Berlusconi's resignation.
But there is not universal support for such a move, with some members of Berlusconi's party favouring a general election.
Robert O'Daly, economist at the Economist Intelligence Unit, said: "That spooks investors, largely because an election would mean a couple of months of campaigning, which would leave Italy rudderless for a couple of months at a time when they need a government to take additional steps."
While the focus has shifted to Italy, chaos still appears to reign in Greece where political parties continue to fight over who should lead a coalition government even though prime minister George Papandreou announced he was standing down.
In a televised address Papandreou said: "I want to wish every success to the new prime minister and the new government. I will stand at their side and will back this national effort to the utmost of my ability."
It is believed that Papandreou had wanted Philippos Petsalnikos, the speaker of the Greek parliament, to take over.
But the opposition New Democracy party balked at that choice given his apparent lack of economic expertise. But opposition leader Antonis Samaras it is up to Papandreau's PASOK party to propose a new prime minister as it holds the most seats.