Benetton Pulls 'Unacceptable' Advert That Shows Pope Kissing Imam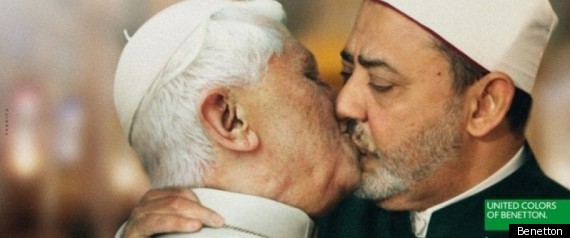 Benetton has caved into pressure from the Vatican and pulled a controversial advertising poster that depicted the Pope kissing an Egyptian imam, after it was condemned for breaching "basic rules of respect" for religious leaders.
The offending advert formed part of the clothing company's new 'Unhate' campaign which features world leaders who are often at loggerheads, such as President Obama and Venezuelan president Hugo Chavez, locking lips.
"It means not hating," Alessandro Benetton, deputy chairman of Benetton Group SpA, told the Wall Street Journal. "In a moment of darkness, with the financial crisis, what's going on in North African countries, in Athens, this is an attitude we can all embrace that can have positive energy."
He added: "While global love is still a utopia, albeit a worthy one, the invitation 'not to hate', to combat the 'culture of hatred', is an ambitious but realistic objective,"
But the poster featuring the Pope smooching Ahmed el Tayyeb, imam of the al-Azhar mosque in Cairo, proved to be too much for the Vatican to bare.
Protesting at the mocked-up picture, Federico Lombard, a spokesman for the Pope said: "We must express the firmest protest for this absolutely unacceptable use of the image of the Holy Father, manipulated and exploited in a publicity campaign with commercial ends.
"This shows a grave lack of respect for the pope, an offence to the feelings of believers, a clear demonstration of how publicity can violate the basic rules of respect for people by attracting attention with provocation."
After pulling the offending advert Benetton said it was "sorry that the use of the image had so hurt the sensibilities of the faithful".
But some may speculate that such a strong reaction was precisely what the company was seeking as a way of promoting its brand.
The company has made a name for itself through publishing provocative adverts, including a priest kissing a nun, a man dying of Aids and a new born baby.
According to AFP a poster featuring Silvio Berlusconi kissing German chancellor Angela Merkel was dropped at the last minute after the Italian resigned as prime minister last week.
The Pope and Ahmed Mohamed el-Tayeb