Thick Fog Causes Travel Chaos Across England As Flights Are Grounded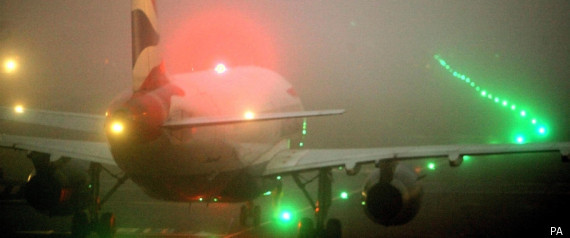 UPDATE - Flights have been cancelled and visibility reduced to dangerous levels as a blanket of thick fog brought travel chaos to airports across England.
Hundreds of travellers were stranded after the arrival of brutal winter weather following an unseasonably warm October and early November. The fog will continue into the start of the week.
The Press Association reports that Heathrow airport said it was aware 63 inbound and 78 outbound flights had been cancelled during the day (Monday) by airlines.
A spokeswoman for the airport said: "Passengers are being re-booked or put up in accommodation by airlines, while some domestic passengers are being taken in coaches to their destination.
"Some delays to flights are also occurring so we advise passengers to check with their airlines before travelling."
Britain's biggest airport, Heathrow, was worst affected today but planes were also grounded at Norwich, Leeds-Bradford, London City Airport and a handful of delays at Gatwick.
A staggering 132 flights, including 50 BA flights, were cancelled at Heathrow alone today as visibility in the capital and on the roads was reduced to 100 metres.
According to the BBC, the Met Office has issued a severe weather warning for "dense fog" which could cause further chaos until Monday morning.
A yellow fog warning tonight extends from the south-east to Yorkshire and Humber and the East and West Midlands.
The severe weather warning means drivers should take extra care on the roads, and travellers should call ahead to airports to check flight details.
Just over a year ago, in December 2010, at least half a million passengers had their travel plans ruined when the wrong type of grounded planes at the UK's major airports.
Many travellers were left stranded, and at the time Boris Johnson, Mayor of London, criticised airport operator BAA saying it could not be "beyond the wit of man" to get people flying in wintery conditions.
Airport operator BAA said in a press release "We're sorry, but Heathrow did all it could".
Following 2010's snow chaos, the Heathrow operator announced a £50million investment plan including a revised snow plan, new equipment, increased staff and improved crisis management processes.