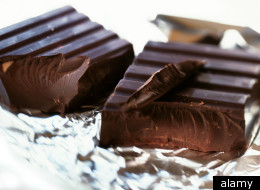 Chocoholics, you might want to stock up on those Quality Street and selection boxes while you can because insiders are predicting a world chocolate shortage could be on the cards.
Although cocoa trade prices are currently at their lowest level in three years as a result of a bumper crop and a slowdown in consumption in Europe, industry experts are predicting a one-million-ton shortage of cocoa within eight years, fuelled by a growing taste for cocoa in China.
This could see the price of chocolate soar as manufacturers are forced to increase the use of nuts and other expensive ingredients to add bulk to their bars.
An area the size of the Ivory Coast would need to be cultivated to satisfy the demand.
Experts are warning that farmers need more training to help increase their cocoa bean crops to prevent prices soaring.
If that wasn't excuse enough to go out and start stockpiling the sweet stuff, find out more about the health benefits of chocolate below and enjoy some guilt-free indulgence.
5 Health Benefits Of Chocolate
Eating dark chocolate could help control diabetes and blood pressure, according to an Italian study. Researchers found that eating 100g of dark chocolate each day for 15 days lowered blood pressure. The same study found that chocolate improved the body's ability to metabolise sugar.

Chocolate is packed with antioxidants, which protect the body from environmental stress. In fact, ounce for ounce, the sweet stuff contains more antioxidants, than blueberries and green tea.

Chocolate is a rich source of magnesium, which may help reduce the risk of chronic illnesses, such as type 2 diabetes, hypertension and cardiovascular disease. It also contains iron and potassium, linked to a reduced risk of blood pressure and stroke.

Although it is frequently lumped in the same category as cakes and pastries, when it comes to sugar content, dark chocolate surprisingly has a low glycemic index which means it won't send your blood sugar levels soaring then crashing.

Chocolate contains a compound, Phenylethylamine (PEA) that releases feelgood chemicals called endorphins in the brain. The same chemicals are released when you fall in love. Another benefit: man replacement?