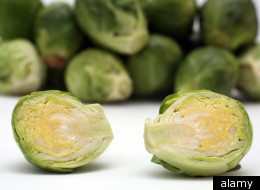 Love them or hate them, the humble brussel sprout has always been regarded as a Christmas dinner staple. But despite this year's bumper crop, it would seem the festive green is facing rejection as cash-strapped families prepare to rein in their supermarket spend and make essential food cutbacks.
According to a new survey, a third of families vow to budget this Christmas and it's the dinner table that will suffer, with one in four admitting that sprouts will be the first to be crossed off the shopping list.
The poll by Morrisons found that while it will be out with the sprout, one in ten will also be giving the Christmas pudding the boot. Other festive favourites facing sacrifice include mince pies, bread and cranberry sauce.
Only four key ingredients are guaranteed to make the cut this year - roast turkey, pigs in blankets, stuffing and roast potatoes.
Though its acquired taste has given it a reputation as the Marmite of the veggie world, we think sprouts are the unsung heroes of the Christmas dinner. So in an attempt to save them from the chopping block and reinstate them to the chopping board, we've found the tastiest brussel sprout recipes to encourage you to reconsider your shopping list.
Ingredients: 500g (18oz) brussels sprouts 1tbsp olive oil 300ml (1/2pt) vegetable stock 2tbsp wholegrain mustard Salt and freshly ground pepper 2tbsp clear honey 1. Prepare the brussels sprouts and cut in half. 2. Heat the oil in a large pan, add the brussels sprouts and fry for 2 minutes. Remove from the heat and carefully pour in the vegetable stock and stir in the mustard and seasoning. 3. Bring to the boil, simmer uncovered for 3-4 minutes until the brussels sprouts are tender. Stir in the honey and serve immediately. Recipe from Good To Know. Image by Flickr: Joyosity.

Ingredients: 200g Brussels sprouts trimmed & sliced 500g potatoes cooked & crushed 1 egg, beaten 50g plain flour 100g finely ground breadcrumbs seasoned 300ml vegetable oil 1. Drop the sprouts into boiling water and blanch for 2-3 minutes. Drain and refresh with cold water. Combine with the potato, mashing them together with a fork. Season well and form the mixture into 12 croquettes. 2. Place the egg in a bowl, the flour on a plate and the breadcrumbs on a second plate. Dip each croquette into the flour first, to coat, then the egg and lastly the breadcrumbs. Make sure each is fully covered. Chill in the fridge for 30 minutes, or up to 24 hours 3. To make the dip combine the tomatoes, coriander, Worcester sauce and shallot, season and set aside. 4. Pour the oil into a large, deep frying pan, to a depth of about 4cm, and place over a medium-high heat. 5. Fry the croquettes until golden all over for a total of 5 minutes - you may need to do this in 2 batches to avoid overcrowding the pan. Drain on kitchen paper and serve immediately with the dip. Recipe from Good To Know. Image by Flickr: SheriW.

Ingredients: 500g Brussels sprouts , trimmed and halved 1 tbsp sunflower oil 1 chilli , sliced into rings 2 garlic cloves , finely chopped Large piece of fresh root ginger , cut into fine matchsticks 1 tbsp soy sauce 1. Cook the sprouts in boiling salted water for 3 mins, then drain. Heat the oil in a wok, then stir-fry the chilli, garlic and ginger for 1 min. Add the sprouts, cook for 2 mins, then drizzle with the soy sauce. Give everything a final toss before serving. Recipe from BBC Good Food. Image by Flickr: YumOh!

Ingredients: 1kg floury potatoes , quartered (I use King Edward) 40g butter 500g Brussels sprouts , trimmed 50g plain flour , seasoned with salt and pepper olive oil 1. Boil the potatoes for 12-15 mins or until tender, then drain and return to the pan over a low heat for 1-2 mins to dry out. Add the butter and mash well. Meanwhile, boil the sprouts for 3-5 mins until just tender. Drain and cool quickly under cold running water. Shake dry, then shred as finely as you can. 2. Mix the sprouts with the potatoes and season to taste. Leave until cool enough to handle, then shape into 8 round cakes. Tip the flour onto a plate, then coat the cakes, tapping off the excess. 3. Heat a 5mm depth of oil in a large frying pan and shallow-fry the cakes in 2 batches for 2 mins each side, turning carefully. Drain on kitchen paper and transfer to a baking sheet lined with greaseproof paper. Cool, cover and chill or freeze. Will keep in the fridge for up to 3 days or freeze for up to a month. 4. Heat oven to 190C/fan 170C/gas 5 (or if you've roasted the ham, leave the oven on while it rests) and reheat the cakes for 15 mins until hot through and crisp on the outside. Recipe by BBC Good Food. Image by Flickr: teenytinyturkey.

Ingredients: 454g/ 1lb Brussels sprouts, trimmed low calorie cooking spray 1 red onion, finely chopped ½ tsp fennel seeds grated rind of 1 orange ½ tsp thyme leaves 170g/ 6oz cooked chestnuts salt and freshly ground black pepper 1. Cook the sprouts in lightly salted boiling water for 6 minutes. Drain well. 2. Spray a pan with low calorie cooking spray and cook the onion, fennel seeds, orange rind and thyme for a few minutes over a high heat until the onion starts to colour. 3. Tip in the sprouts and the chestnuts and continue frying until the sprouts are slightly browned. Season to taste and serve immediately. Recipe by Slimming World Christmas made Extra Easy/Gareth Morgans. Image by Flickr:adactio

Ingredients: 500g (1lb) Brussels sprouts 2tbsp sunflower oil 1 onion, peeled and chopped 1 vegetable stock cube 100ml (3½fl oz) crème fraîche Freshly ground nutmeg Salt and freshly ground black pepper 15g (½oz) butter 1. Reserve 2-3 whole sprouts then trim and halve the rest. 2. Heat oil in a saucepan and add the onion. Cook over a medium heat for 8-10 mins, stirring occasionally, until the onion starts to turn a light-golden colour. Add halved sprouts to pan and cook over medium heat for 4-5 mins. 3. Pour 600ml (1 pint) boiling water into the pan and stir in the stock cube. Bring to the boil, then reduce the heat and simmer for about 15-20 mins, until the vegetables are tender. Remove the pan from the heat and leave the soup to cool slightly. 4.Purée the soup in a liquidiser, food processor, or with a hand blender, until smooth. Return the soup to the saucepan. Add crème fraîche and reheat soup until it's piping hot, then season it to taste with nutmeg and salt and pepper. 5. Melt the butter in a small pan and shred reserved sprouts. Add sprouts to pan and cook them for 2-3 mins. Pour soup into serving bowls and then top with sautéed sprouts and grind over extra black pepper, or nutmeg. (Not suitable for freezing). Recipe from Good To Know. Image by Flickr: ryochiji.