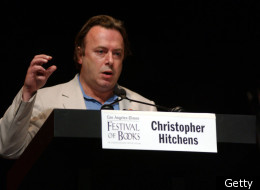 The worlds of celebrity, journalism, literature and academia congregated on Twitter this morning to note the passing of author and journalist Christopher Hitchens, who died following a battle with cancer. Hitchens was diagnosed with the illness in 2010 while on a book tour for his memoir, Hitch-22.
Born in Portsmouth, the writer worked for the New Statesman before moving to the United States to work for The Atlantic, Slate and, most notably, Vanity Fair. News of his death in Houston, Texas saw a flood of tributes hit the social network.

@stephenfry

Stephen Fry
Goodbye, Christopher Hitchens. You were envied, feared, adored, reviled and loved. Never ignored. Never bested. A great and marvellous man
@ProfBrianCox

Brian Cox
Saddened by the loss of the great Christopher Hitchens this morning
#GodIsNotGreat
@RichardDawkins

Richard Dawkins
Christopher Hitchens, finest orator of our time, fellow horseman, valiant fighter against all tyrants including God
http://t.co/v5b29QCv
@SalmanRushdie

Salman Rushdie
Goodbye, my beloved friend. A great voice falls silent. A great heart stops. Christopher Hitchens, April 13, 1949-December 15, 2011.
@rickygervais

Ricky Gervais
RIP Christopher Hitchens The most honest and outspoken, bullshit-free thinker of our time. A brave man and a hero of mine.
An essayist and world-renowned atheist, "Hitch", as he was known, gained global notoriety following publication of his 2007 book God Is Not Great: How Religion Poisons Everything. His appearances - he was equally at home debating rabbis or Christian apologists as he was locking horns with televangelists on cable news shows - for the associated book tour were often filmed and posted on YouTube by fans and foes alike.
In a 2008 round table discussion sponsored by Google, Hitchens jokingly quipped "It's not YouTube, it's MeTube", a reference to the swathe of clips in which he featured that were becoming increasingly popular on the video sharing site. "Some of them date back to the Eighties," he said slightly baffled.
On news of his death, Christopher Hitchens began trending worldwide as tributes poured in.
However, as with his life, controversy followed Hitchens into death. The hash tag #GodIsNotGreat also began trending, which was followed by a storm of protests by the religious, many unaware that the hash tag was a tribute to the author's passing.
Twitter reportedly removed the topic from the trending lists following threats of violence towards the creators of the hash tag. The irony that Hitchens book, one that makes stark the link between religion and violence, had stirred the religious to then threaten violence was not lost on the twitterati.

@luketadams

Luke Adams
Hitchens dies. His book
#GodisNotGreat
trends. Religious people threaten violence. The point of his book is proven. Hitchens for the win.
@beyondmythology

Beyond Mythology
RT
@SurlyAmy
- Hitchens dies. His book
#GodisNotGreat
trends. Religious ppl threaten violence. Point of his book proven. Hitchens FTW.
Hitchens leaves behind a prodigious body of work, not just in the thousands of articles he penned, but the myriad clips of him debating - some serious, some funny, but always with a principled conviction.
Vanity Fair editor Graydon Carter called Hitchens a "movie star" of a writer.
"You'd be hard-pressed to find a writer who could match the volume of exquisitely crafted columns, essays, articles, and books he produced over the past four decades," he said.
Enjoy some clips of Hitchens in action: