Number One Super Guy: Hong Kong Footballer Scores Incredible Scorpion Kick Own Goal (Video)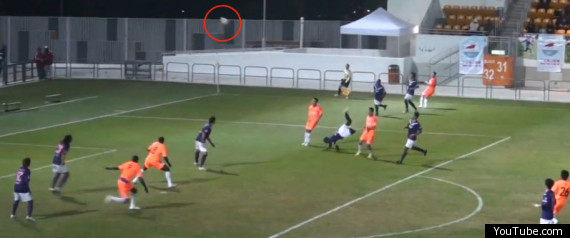 No-one's ever proud of scoring an own goal - but if you're ever going to score one, you better pray it's as magnificent as this glorious scorpion kick number we've got for you below.
Pulled off by 31-year-old Nigerian defender Festus Baise for Hong Kong's Citizen AA team, if it had been seen on the other side of the pitch we'd be looking at a contender for goal of the year.
A shame then that Baise was aiming for a clearance rather than the back of his own net, but hey, you can't have it all - and at least his team eventually won, a 3-2 final score against Sun Hei making this epic cock-up an amusing anecdote rather than a career-ending blunder.
But as this is such a doozy, it would be criminal not to offer up a round-up of other astonishing own goals, right? Well, exactly... so after checking out his fancy footwork, marvel at a dozen or so other "beauties" afterwards...

Loading Slideshow
Jamie Pollock's Epic Own Goal

A Windy Own Goal

Spanish Under 21 Inigo Martinez's Own Goal

September 2nd, 2011 A sensational effort. Spain were 6-0 up at the time and went on to win 7-2.

Tony Popovic's Own Goal For Crystal Palace

Is This The Stupidest Own Goal In The World?

Greece's Avraam Papadopoulos Own Goal Against Luxembourg

Incredible own goal by Greece (Avraam Papadopoulos) in the last minute of the match Greece - Luxembourg in the Qualifiers 2010 (14.10.2009).

There Are No Words...

Waterford United V Mervue United

FInal score: 3-0.

Hajduk's Goran Rubil's Own Goal

Final score: Hajduk losing 2-1.