It seems everyone has their own opinion on One Direction's Harry Styles dating Xtra Factor presenter Caroline Flack.
Speaking to Star magazine, the 31-year-old called the romance 'wrong', despite her flirtation with 19-year-old Lucien Laviscount during her time on Celebrity Big Brother earlier this year.
"Stop. That is so wrong. I just couldn't be s****ing someone who was going through puberty!" she said Caroline and Harry.
"If it's a Demi/Ashton situation, that's different because they're older. But Harry Styles is just a 17-year-old boy, so in my eyes it's just wrong. He's not long left school. He's not even allowed to drink yet."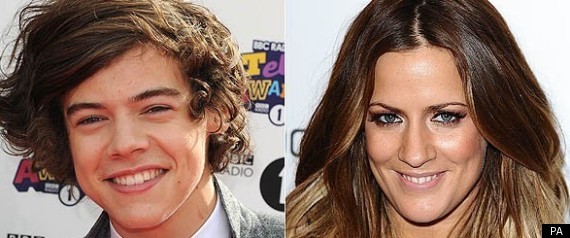 Among all the criticism, it's a good job Caroline's got her pal Olly Murs to fight her corner for her.
"Nothing's concrete. It's all good," he said.
"Everyone tweets what they want but no-one knows the inside truth - that's private. All this taking pictures and stuff is unfair."
"I feel like I shouldn't have to worry about what I do. But it's a social thing that people aren't accepting of big age gaps," she said.
"Some people tend to see the negative immediately and that's what I find really strange.
"If two people like each other and get on, why does anyone else find a negative in it? I know it's human nature for everyone to gossip. But why say it's bad? No one's being hurt at all in anyway."
SUBSCRIBE TO & FOLLOW UK DAILY BRIEF