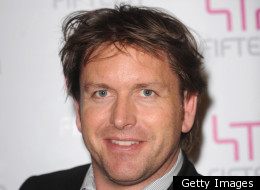 Cooking a delicious festive feast for the family can be a challenge to say the least.
So, if you've been lumbered with the pinny and are preparing to sweat it out in the kitchen on Christmas Day, follow these simple (and life-saving) preparation tips from Saturday Kitchen TV chef James Martin.
To see James Martin cook a Christmas dinner go to Facebook/Barclaycard.
Bon Appetit!
Preparing a fool-proof Christmas dinner
"Make sure you have all the right equipment and ingredients. In particular, ensure you have a pan big enough to hold the turkey and you can get the turkey into the oven."

"Before you start peeling the potatoes or getting the turkey ready, establish what time you intend to eat on Christmas Day and work backwards. For the turkey, calculate the cooking time of the turkey the night before Christmas Eve. Add at least 45 minutes for the turkey to rest before carving."

"The way you cook the vegetables - your brussels sprout, carrots, French beans, cauliflower - cook them in advance so you're not rushed off your feet in the morning. Boil a saucepan of salted water, drop the veg in one at a time - carrots first, followed by the rest. Lift them out one by one and throw them in cold water and drain them off. And then put them in the fridge. "When Christmas morning comes, boil one pan of boiling water and pop them all in for one minute. Then you've got a full set of ready to roast veg in under no time."

"Make your gravy in advance! Add half a bottle of red wine and some gravy stock and reduce it by two thirds, so you end up with an equal amount of finished stock. Drain it and put that in the freezer to freeze it and then you've got that ready for Christmas Day."