Pictures Of The Day 21 December: Ski Championships To Santa Penguins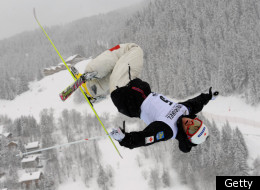 We can all start to look forward to longer days and a stronger sun - the Winter Solstice of 21 December was the shortest day of the year, celebrated in traditional fashion by pagans at Stonehenge.
Ireland enjoyed their Winter Solstice with their own distinctive concrete Stonehenge at Achill-Henge on Achill Island, complete with 30 large columns. Locals better enjoy the unusual landmark while it lasts; Mayo County Council are in a legal battle to have the structure demolished.
The Leveson Inquiry continues with former Daily Mirror financial reporter James Hipwell, animals get early Christmas presents in Australia and two penguins dress as Santa - all in the pictures of the day below: