Exam System 'Toxic', Says Professor Mick Waters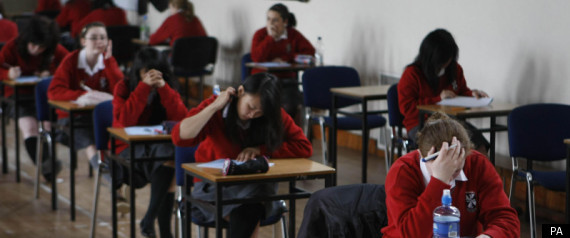 A former government adviser has warned of a "toxicity" in the schools exams system which leads many youngsters towards a "lacklustre" rather than a "golden" learning experience.
Professor Mick Waters said the "door to examination scrutiny is now ajar", following recent undercover filming which appeared to show exam board staff briefing teachers on exam content.
On Wednesday Waters made a passionate plea for changes to make sure a target driven education system did not squeeze out the "wonder and richness" of children's learning.
Waters, who works with schools in the Black Country to raise standards across the Midlands, is the former curriculum director at the Qualifications and Curriculum Authority (QCA) and is now Professor of Education at Wolverhampton University.
He told delegates on the first day of the North of England Education Conference, in Leeds the "door to examination scrutiny is now ajar and shedding light on the system that has evolved over time".
"You'll have seen the footage.
"What that light falls upon might still be the gold standard but it is slightly tarnished because there's something toxic in the air inside that room.
"The high stakes testing regime that drives diligent and professional teachers and examiners creates a toxicity in the system that leads may young people towards a lacklustre, rather than a golden learning experience as they move towards the achievement of their own school's targets.
"I think this is a massive challenge for us in the education system at this moment to take forward," Waters continued.
"Raising aspirations is not just about higher grades.
"For many, many years now schools have been told to raise aspirations and that will lead to better GCSEs, better SATs results.
"It's more than levels, more than qualifications. It's more than a career outcome. It's actually about aspirations to work, aspirations to contribute and aspirations of the spirit of our young people."
Waters told the delegates he wanted to provoke debate and "throw the first pebble into the pond".
The exam system has taken a battering in the past month due to The Daily Telegraph publishing videos of exam chiefs allegedly giving advice to paying teachers. Exam boards Edexcel and WJEC were both incriminated, with Steph Warren of the former board saying "There's so little content we don't know how we got it through," an accusation which she vehemently denied at a select committee hearing.
A history paper has since between withdrawn from the GCSE syllabus as a result of the allegations.