X Factor's Kerry McGregor Dies Of Cancer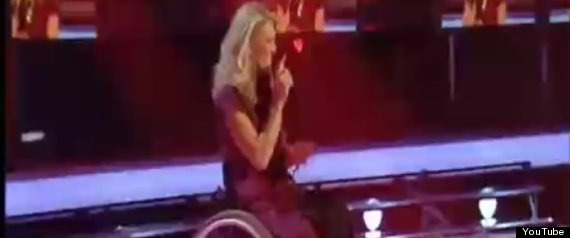 Former X Factor contestant Kerry McGregor has died after a battle with bladder cancer.
The 37-year-old, who performed in a wheelchair as a result of an accident when she was younger, appeared on the third series of the reality show in 2006.
A spokesman said: "It is with deep sadness we announce that Kerry passed away at home, earlier today, following a battle with cancer."
During her time in The X Factor, McGregor was mentored by Sharon Osborne in the series won by Leona Lewis.
The singer, from West Lothian, was voted out in the third week of the live finals.
McGregor was left wheelchair-bound at the age of 13 after an accident left her paralysed. In an interview with The Sun last year, the Scottish singer said: "It was small cell cancer one of the fastest spreading. The fight is long, but I want to live. I've got so much more to live."
The mother-of-one had worked with several charities including Leonard Cheshire Disability and Action for Bladder Cancer.
Colin Bunce, Chair of Action for Bladder Cancer said: "She was a truly inspirational person and we were delighted when, before Christmas, she accepted our invitation to become an Ambassador for Action on Bladder Cancer", the BBC reported.
Kerry's spokesman said the singer was rehearsing and recording until as recently as last month and was due to perform a duet with Susan Boyle this year.