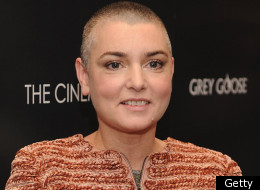 Irish singing star Sinead O'Connor has made a worrying plea for help on Twitter.
The singer published a series of Tweets today asking to see a psychiatrist and claiming she needs medication.
She claimed to be "in serious danger" and "really unwell".
O'Connor has had a tumultuous year which saw her tie the knot with Barry Herridge, only to announce the couple had split just 16 days later.
O'Connor took to her personal blog to state that she and Herridge "part amicably," emphasising that she'd ended their brief relationship because she loved him.
"He has been terribly unhappy and I have therefore ended the marriage," she explained. "I can't take anyone's life. And a woman wants to be a joy to her husband. So.. U love someone? Set them free."
She now claims the pair are back together and has repeatedly taken to Twitter to boast about all-night love making sessions.
This is the fourth marriage for O'Connor, who was previously married to music producer John Reynolds, journalist Nicholas Sommerlad and guitarist Steve Cooney.
She and Herridge met online, when Herridge responded to the singer's plea on her website for a "sweet, sex-starved man."
O'Connor sparked fears for her mental health back in September when she tweeted about wanting to take her own life.
The Nothing Compares 2U star later wrote: "There is no shame in feeling suicidal. Nor in anyone knowing that wave passes over you sometimes."
If you have been affected by depression or any of the issues in this story, call The Samaritans for help on 08457 90 90 90

@vampyahslayah

Sinead O'Connor
a psychiatrist who can help me today... dont tweet i b away from computer i broke ankle have to go casualty
@vampyahslayah

Sinead O'Connor
and i desperately need to get back on meds today. am in serious danger. please e mail me at iamwonderful@me.com if u know or are

@vampyahslayah

Sinead O'Connor
does any1 know a psychiatrist in dublin or wicklow who could urgently see me today please? im really un-well... and in danger.
@vampyahslayah

Sinead O'Connor
i realise i will be in trouble 4 doing this but.. ireland is a VERY hard place to find help in. So having tried other ways 1st im asking