Golden Globes 2012: George Clooney Ribs Brad Pitt, Wins Best Actor Prize For 'The Descendants'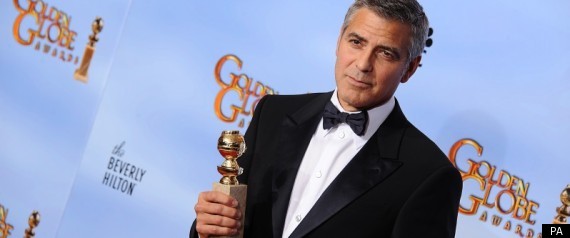 George Clooney lampooned his friend Brad Pitt at the Golden Globes, by walking on stage to present an award, aided by a big stick.
Pitt, who was seen smiling with his partner Angelina Jolie and evidently taking the ribbing in good spirits, has been seen on the red carpet, cane in hand, in recent weeks.
The actor had injured his leg skiing. He explained to press that he had deliberately fallen to ensure his daughter Vivien, whom he was carrying at the time, didn't hurt herself.
Both he and Jolie played down the incident, with Jolie saying she too hurt herself while looking after their six children.
Clooney said of the cane, "I'm going to have to give it back to him. He can't make it to the bar."
Later, Clooney picked up the Award for Best Actor in a Drama for his role in The Descendants, where he plays a man whose philandering wife falls into a coma.
He beat his friend Brad, who was also nominated for his role in Moneyball, a film he also produced.
Clooney is now the frontrunner for the Oscar alongside Jean Dujardin, who won Best Actor in a Comedy or Musical, for his role in The Artist, which also won Best Film in that category.
During his speech, Clooney was his usual jokey self, thanking fellow nominee Michael Fassbender for taking over the full frontal nudity responsibility, suggesting he should even play golf with his hands behind his back.
Click here for a full list of winners at this year's Golden Globes
SLIDESHOW: Brits at the Globes...

Loading Slideshow
Host Ricky Gervais performs onstage during the 69th Annual Golden Globe Awards at the Beverly Hilton International Ballroom in Beverly Hills, California. (Photo: Paul Drinkwater/NBC/Getty Images)

Kate Winslet accepts award for Best Actress - Mini-Series or TV Movie 'Mildred Pierce' onstage during the 69th Annual Golden Globe Awards in Beverly Hills, California. (Photo: Paul Drinkwater/NBC/Getty Images)

Actress Kate Winslet arrives at the 69th Annual Golden Globe Awards held in Beverly Hills, California. (Photo: Jeff Vespa/WireImage)

Idris Elba accepts the award for Best Actor - Mini-Series or TV Movie 'Luther' onstage during the 69th Annual Golden Globe Awards in Beverly Hills, California. (Photo: Paul Drinkwater/NBC/ Getty Images)

Helen Mirren, Morgan Freeman and Sidney Poitier pose in the press room at the 69th Annual Golden Globe Awards held at the Beverly Hilton Hotel. (Photo by Jeff Vespa/WireImage)

Helen Mirren appears onstage during the 69th Annual Golden Globe Award in Los Angeles. (Photo: Paul Drinkwater/NBC/AP)

The cast winners for Best Mini-Series or Motion Picture Made for Television 'Downton Abbey (Masterpiece)' pose with the trophy at the 69th annual Golden Globe Awards at the Beverly Hilton Hotel. (Photo: Robyn Beck/AFP/Getty Images)

Hugh Bonneville and Elizabeth McGovern arrive at the 69th Annual Golden Globe Awards held at the Beverly Hilton Hotel. (Photo: Frazer Harrison/Getty Images)

Actors Damian Lewis and Claire Danes pose in the press room with the Best Television Series - Drama award for 'Homeland' at the 69th Annual Golden Globe Awards held at the Beverly Hilton Hotel. (Photo: Kevin Winter/Getty Images)

Actor Colin Firth and his wife Livia Giuggioli arrive at the 69th Annual Golden Globe Awards held at the Beverly Hilton Hotel. (Photo: Jeff Vespa/WireImage)

Emily Blunt appears during the 69th Annual Golden Globe Awards in Los Angeles. (Photo: Paul Drinkwater/NBC/AP)

Nominee for Best Performance by an Actor in a Mini-series or Motion Picture Made for Television Bill Nighy poses on the red carpet for the 69th annual Golden Globe Awards at the Beverly Hilton Hotel. (Photo: Frederic J. Brown/AFP/Getty Images)

Actress Tilda Swinton arrives at the 69th Annual Golden Globe Awards. (Photo: Jeff Vespa/WireImage)

Actress Kate Beckinsale poses for the photographers during the 69th annual Golden Globe Awards at the Beverly Hilton Hotel. (Photo: Robyn Beck/AFP/Getty Images)

Director Len Wiseman and wife actress Kate Beckinsale arrive at the 69th Annual Golden Globe Awards. (Photo: Steve Granitz/WireImage)

Damian Lewis and Helen McCrory arrive at the 69th Annual Golden Globe Awards held at the Beverly Hilton Hotel. (Photo: Frazer Harrison/Getty Images)

Actor/Director Kenneth Branagh and wife Lindsay Brunnock arrive at the 69th Annual Golden Globe Awards held at the Beverly Hilton Hotel. (Photo: Frazer Harrison/Getty Images)

Emily Watson and Jeremy Irvine arrive at the 69th Annual Golden Globe Awards held at the Beverly Hilton Hotel. (Photo: Frazer Harrison/Getty Images)

Gerard Butler and actress Mila Kunis present an award onstage during the 69th Annual Golden Globe Awards in Beverly Hills, California. (Photo: Paul Drinkwater/NBC/Getty Images)

Writer Julian Fellowes and Emma Kitchener Fellowes arrive at the 69th Annual Golden Globe Awards held at the Beverly Hilton Hotel. (Photo: Frazer Harrison/Getty Images)

Ricky Gervais and Jane Fallon arrive at the 69th Annual Golden Globe Awards in Beverly Hills, California. (Photo: Frazer Harrison/Getty Images)