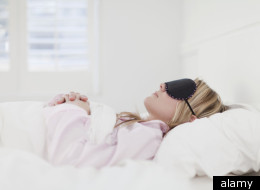 Contrary to popular belief, 'sleeping on a problem' could only make the matter worse.
The study by the University of Massachusetts Amherst found that negative thoughts and experiences become more upsetting if you sleep immediately afterwards rather than digesting the problem while still awake.
These findings contradict previous studies that suggest sleeping and dreaming take the edge off sad experiences and emotions.
The study involved asking 106 young participants to look at a series of upsetting pictures and then rate their emotional response. The volunteers were then shown a different set of pictures after a 12 hour gap and were asked to give fresh feedback.
They discovered that those who slept overnight between looking at both sets of photos were better at recognising the images and had retained a stronger, more negative feel towards them, compared to those who saw them once in the morning and then in the evening, without any sleep in between.
Researchers from this study decided to look at this situation from an evolutionary perspective and explained that by the brain retaining vivid, negative memories, this teaches it to avoid repeating these experiences in the future.
"We found that if you see something disturbing, let's say an accident scene, and then you have a flashback or you're asked to look at a picture of the same scene later, your emotional response is greatly reduced, that is you'll find the scene far less upsetting if you stayed awake after the original event than if you slept," says Dr Rebecca Spencer, from the study.
Dr Spencer added that this study shows that sleep preserves our memory and our sensitivity towards them.
"Some previous studies have looked at just memory itself, not how emotional reactivity changes. When they looked at how our responsiveness changes they have a different and limited measure," says Dr Spencer.
"There have been a few studies which look at one or the other but this is the first to look at them side by side."
Lesley McCall, a cognitive hypnotherapist, agrees that it's not ideal to sleep straight after a stressful event.
"Taking huge amounts of stress into sleep with you is not good for you. Whilst REM (rapid eye movement) sleep is your mind's way of de-stressing itself, too much stress can increase REM sleep to the point where your slow wave sleep (where you get refreshed and relaxed) is reduced significantly.
"This means that you may wake up anxious, tired and miserable – and more likely to remember the stressful moments as soon as you wake up," Lesley told The Huffington Post.
Suffering from anxiety dreams? Find out what they really mean with our expert dream decoder.
"Your teeth symbolise how confident and powerful you feel, so some situation is causing your confidence to crumble in waking life. Rather than seeing this situation as something that will leave you powerless, just try calmly chewing over the facts and relish it as a challenge that you can really get your teeth into," says Ian Wallace.

"There is an issue in your waking life that you want to confront but are unsure how to do so. This issue is often a great opportunity for you to pursue a particular personal ambition. Although they may seem scary, your pursuers are actually bringing your attention to your unrealised talents in your own pursuit of fulfillment," Ian Wallace.

"Nightmares often indicate a period of stress, although you can have a nightmare just because your room is too hot so keep an eye on your bedroom environment. If your dreams are recurring, keep a dream diary so you can spot patterns developing around why you have them when you do," says Delphi Ellis.

"Toilets are what we use to cleanly respond to some of our most fundamental needs, so there is an issue in waking life where you are finding it a challenge to clearly express your own needs. This can often occur if you always spend your time looking after the needs of other people, rather than your own needs," says Ian Wallace.

"Infidelity in dreams often recognises insecurities around a relationship, especially if your current partner is making you very happy," says Delphi Ellis. "Sex in dreams is often about control, so if you have a wandering eye you may be trying to control someone or something."

"We choose our clothes to present a particular image to the people around us, so being naked in public suggests that there is a situation in waking life that is making you feel vulnerable and exposed," explains Ian Wallace. "Although it might be potentially embarrassing, sometimes you just have to open up to others so they can see your real talents."

"Pregnancy dreams will depend on whether you are trying for a baby, if so this may reflect your fears and anxieties about falling pregnant," says Delphi Ellis. "For everyone else (even men dream of being pregnant) it can emphasise that the idea you may be working on needs time to grow and must take its natural course."

"Being able to fly suggests that you have released yourself from circumstances that have been weighing you down in waking life. Although you may regard this feeling of liberation as just luck or coincidence, it is usually because you have managed to make a weighty decision or risen above the limitations of a heavy responsibility," explains Ian Wallace.

"Feeling yourself falling in a dream indicates that you are hanging on too tightly to a particular situation in waking life, and need to relax and let go of it," says Ian Wallace. "Rather than being so concerned about losing control, sometimes you just have to trust in yourself and others by allowing everything to fall naturally into place."

"The vehicle represents your ability to make consistent progress towards a specific objective, so in waking life, you may feel that you don't have enough control over your road to success. Instead of trying to over control the situation, relax your grip and allow your fundamental instincts and drives to steer the best path for you," explains Ian Wallace.

"The rooms in a house represent different aspects of your character, so finding an unused room suggests that you're discovering a talent that you were previously unaware of," explains Ian Wallace. "The more time that you spend exploring your dormant talents, the more likely that you will find other doors opening for you in waking life."

"Being late suggests you feel that you're losing the opportunity to experience some sort of fulfillment in your waking life. This may be because you've been involving yourself in busy and sometimes meaningless activity, rather than committing to meaningful action. Until you commit to a decision, you will always find yourself hesitating and using your time ineffectively," says Ian Wallace.

"Dreaming of your own death can suggest you are aware of, or fearing, your own mortality although death can also represent change in yourself or someone else. It is normal to dream of losing someone you love because its a natural fear. Death is inevitable but just because you dream it doesn't mean going to happen sooner than expected," says Delphi Ellis.

"Exams are how we judge our ability to perform, so this indicates that you are critically examining your own performance in waking life. Rather than immersing yourself in endless self examination, the real test of your character is being able to accept your talents by celebrating your knowledge and achievements, instead of constantly judging them," explains Ian Wallace.