Celebrity Visits To Afghanistan Cost Hundreds Of Thousands Of Pounds, Government Says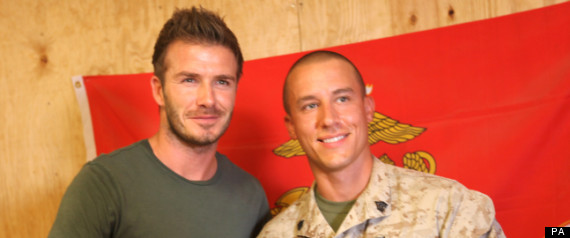 Celebrities visiting soldiers in Afghanistan cost taxpayers nearly half a million pounds last year, the Government said tonight.
The Ministry of Defence (MoD) arranges a series of morale-boosting trips to the frontline to keep troops' spirits high as they battle the Taliban.
Stars such as former X Factor judge Cheryl Cole, classical singer Katherine Jenkins and footballer David Beckham have all visited the war zone, donning flak jackets and helmets, travelling on military flights and bedding down alongside servicemen and women.
But Defence Secretary Philip Hammond tonight said the cost for all celebrity visits, "including an element for UK travel and mobilisation", topped £400,000 last year.
He told MPs: "Entertainment of members of the armed forces is, and has for many years, been an important element of the deployment welfare package.
"It helps to maintain morale and thereby the combat-effectiveness of service personnel.
"The MoD has a contract with combined services entertainment to provide entertainment to members of the armed forces deployed overseas, including Afghanistan.
"The value of entertainment provided for Afghanistan against this contract during 2011 was £437,637."
He added: "Entertainment personalities who visit Afghanistan under this contract or under other auspices are transported and accommodated alongside armed forces personnel at minimal extra cost to the public purse."
The revelations came following a written Parliamentary question from Tory MP Greg Knight (East Yorkshire).
It is not known if stars were paid for their visits.