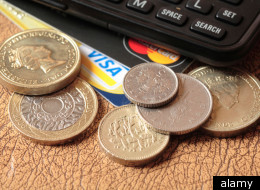 The average family debt, excluding mortgages, has increased by 48% in just a year, a report has revealed.
The study, by insurance company Aviva, found that families have added £2,500 to their credit card and personal loan debts in the last 12 months as they struggle to cope with soaring bills and living costs.
Credit cards make up the highest amount of unsecured debt with the average family owing £2,314.
Although families have seen an average income rise of 7% in the last year, the increase is barely enough to cover rising bill costs. As a result the amount the average family manages to save has dropped by £1 since January 2011, to £22 a month.
Louise Colley, head of protection sales and marketing at Aviva said: "While average incomes have increased over the past year, the prices of essential goods and services have also increased, meaning families are struggling to keep up.
"Many appear to have acclimatised to this economic environment by shopping around and seeking to minimise their spending in certain areas. However, at the same time there are still a worrying number of families with insufficient savings or large debts."
The study also found that millions of Britons are putting their financial security at risk by refusing to talk about family money matters at home.
It was revealed that more than a quarter of Brits (27%) refuse to bring up the subject of their debts with relatives while almost a quarter (24%) would not discuss their finances at all with family.
Financial experts have warned that by refusing to talk bout the family budget, many are ignoring important issues such as what they would do if anything happened to the main earner in the family or how they would cope if their income were reduced for any reason.
It would seem financial security measures are low on the list of priorities for the average Brit's budget. Only 3% thought that a life insurance policy was worth the money, compared to 27% who felt a TV subscription was a good use of cash.
Colley warns: "No-one likes to dwell on poor health or mortality, but people are stopping themselves putting measures in place to protect their loved ones.
"Too many assume someone else will look after their families if they weren't there to provide for them, but the reality is very different. People need to ask themselves how they would pay for their accommodation, food and other costs of living should they suddenly lose an income.
"They could be putting the future family of their families at unnecessary risk. Many report feeling peace of mind when they take out life cover, so we'd urge families to overcome their taboos."
Below, Trisha Doyle, editor of AOL Money, offers her top five tips on how to manage your family finances...
It might seem like a simple one but the first step to getting a handle on debt is know exactly how much you have coming in and how much you have going out. That means sitting down and working out how much you have to pay out each month - everything from your mortgage right down to your TV license. Remember to factor in everyday living expenses such as your morning coffees, afternoon treats and nights out. Then the scary part - put it against your incomings. It may give you a nasty surprise but it's vital to know how much money you actually have for discretionary (fun) spending and saving.

Your mortgage should be your biggest monthly outgoing. As it's going to be with you a very long time it's important to make sure you're getting the best value from it. Research recently revealed that overpaying your mortgage by £300 a month could make you nearly £42,000 better off over 25 years. When you've a family, a rainy day fund is vital but if you have savings or are in a position to put extra cash into your mortgage, it's well worth exploring. However, do check with your provider there are no penalties for early repayment.

We need heat, we need electricity and we need a phone - but do we have to pay so much? The answer is no but families are increasingly out of pocket because they don't take enough action on their outgoings. It's easy to win this particular battle for your hard earned cash, but it means time and effort, but it's worth it in the end. Make a note of each of your big bills, your usage and price plan and shop around for better deals. Better yet, switch through a cashback site like Quidco and earn some money back in the process.

For food shopping, make a list before you go and stick to it. Try and plan your meals for the week in advance, be creative with leftovers and cut down takeaways and eating out to once a week. Before you decide where to dine, see what offers are available on cashback and vouchers sites. The only upside to the economy going through a rough patch is that companies are crying out for your cash, so take advantage of good offers.

It might seem like common sense, but this final step to budget management is the one we all trip up on. It's easy to forget to factor in birthdays and holidays but if you find yourself doing this month after month, it will be tougher to keep on top of your finances. If you have a partner, talk about budget management, the areas you're finding it hard to manage and most importantly, lean on each other for support.