Facebook Graffiti Artist David Choe Who Took Shares Instead Of Cash In Line For $200m Payday In Stock Market Float (PICTURES)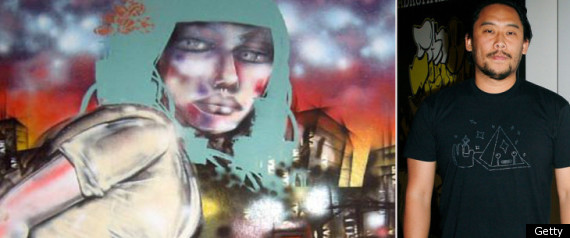 A graffiti artist who took shares in Facebook instead of payment for painting the headquarters walls seven years ago is in line for a $200m payday as the company prepares for a stock market float.
David Choe daubed his designs all over the walls of the company's first offices in Palo Alto, California, in 2005.
Choe, now 35, was offered a choice between accepting "thousands of dollars" of cash for his work – or shares in Facebook, the New York Times reported.
Although Choe felt the venture was "ridiculous and pointless", he accepted the shares.
And he's bound to be laughing all the way to the bank after Facebook last night filed an IPO request in the United States to raise $5 billion in the largest tech float since Google did the same in 2004.
The social media firm is now valued at $100 billion with a profit last year of $1 billion and the value of Choe's shares is believed to be roughly $200 million, according to Facebook executives.
At least 1,000 Facebook employees are expected to be become millionaires overnight, The Sun reported.
Whether he decides to cash in is another matter however – as Facebook figures grew by 1.4 million in December 2011 alone.
And the good news continues for Choe, who has been recruited to paint the firm's new offices in Menlo Park, California... although his payment arrangements have not yet been revealed.