National Apprenticeship Week 2012 Marked By Nick Clegg's Drive To Boost Young People's Employment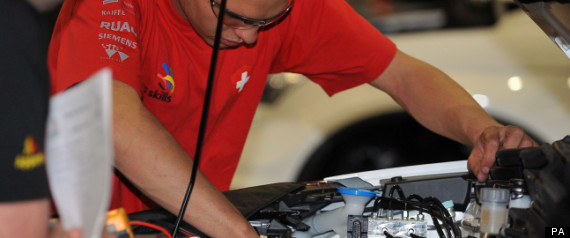 Small businesses are to be given cash bonuses as incentives to take on young apprentices in a new government initiative, launched to coincide with the start of National Apprenticeship Week.
Nick Clegg underlined his support for apprenticeships in a message released to coincide with the event, launched by business secretary Vince Cable.
The deputy prime minister said he was "delighted" to welcome the week for the fifth year running.
"I've long believed that we, as a country, need to put apprenticeships right at the heart of how we educate and train people. It's high time we broke down the outdated divide between the academic route and a more vocational path.
"For so many young people, these programmes open the door to a long-lasting and successful career."
The scheme, announced by Clegg, will take effect from next week. Small firms will be able to apply for an incentive payment of £1,500 to take on their first apprenticeship in 2012-13. Skillset, in partnership with the National Apprenticeships Service (NAS), has pledged to work with 300 businesses in industries such as fashion and media to deliver 500 apprenticeships.
Just last week, City & Guilds published a report predicting UK businesses would be boosted by £495m per year if an additional million places were created.
The publication also claimed that extra apprenticeship places would generate £1.2bn in tax revenues between 2012-2020 and that employers across all sectors would benefit.
Tthe organisation, which creates the relevant qualifications learners need for future employment, is continuing its own campaign, called A Million Extra, which hopes to ensure one million apprenticeship starts by Summer 2013.
The apprentice drive was further boosted by several companies announcing the success of their own "skills academies".
On Monday, Asda supermarket announced 130 staff were celebrating their first Asda Skills Academy graduation in Leeds.
Amongst those celebrating was Emma Fishlock from Taunton, who enrolled last year. She said she "jumped at the chance" to sign up as she wanted to develop her career.
"It's been tough trying to complete all the modules, attend all the training classes and maintain my portfolio - whilst also juggling my day job, but work has been very supportive and I've found it really rewarding. It has taught me about other areas of the business and now I'm determined to work through each level until I reach management."
Coffee giant Starbucks also took the opportunity to announce the launch of their first apprenticeship scheme in the UK, endorsed by skills minister John Hayes, which involves recruiting more than 400 young people this year, with the opportunity to progress to higher level apprenticeships in the future.
With more than 500 events are taking place across the country to celebrate the achievements of learners and employers, Cable said he was "very proud" to prioritise investment in apprenticeships.
"They are at the centre of the government's skills policy because we know they work. They boost businesses' profits and drive growth in the wider economy."
The government announcement comes on the same day a commission chaired by David Miliband published a report on youth unemployment, deeming it a "crisis we cannot afford".
His report called for emergency action after revealing the UK was sitting on a £28 billion "timebomb" and recommended: ensuring more job opportunities are available to young people; a part-time job guarantee for those unable to find a job within a year; targeting young people earlier and pooling resources to get them into work; and a new mentoring scheme for young people, by young people.