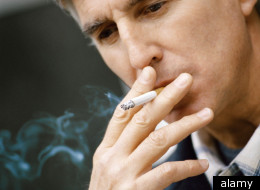 Middle-aged men who smoke are at a greater risk of suffering dementia later in life, a study has found.
Researchers found that male smokers had a greater and faster cognitive decline compared to those who have never smoked or who gave up smoking more than 10 years ago – and the more cigarettes a subject smoked the more pronounced the decline.
Led by Dr Severine Sabia, the researchers at University College London's Department of Epidemiology and Public Health, looked at data from 5,099 men and 2,137 women with an average age of 56 at the first cognitive assessment.
The participants were British Civil Service employees who had participated in the Whitehall II cohort study, which launched in 1985 to examine the link between social class and health.
The study examined the relationship between smoking history and cognitive decline from midlife to old age.
Dr Sabia and her team used six self-reported assessments of smoking status collected over a period of 25 years and three cognitive assessments over a period of 10 years.
The cognitive tests were completed when the subjects were 44-69 years old, 50-74 years old and 55-80 years old.
Male smokers were associated with a faster cognitive decline while women showed no association between smoking and cognitive decline.
Those men who continued to smoke over the course of the study experienced greater decline in all cognitive tests.
Men who quit smoking within 10 years of the first cognitive analysis were also at risk of greater cognitive decline while those who had quit before that time did not show a more rapid cognitive decline.
Dr Sabia said: "Our results show that the association between smoking and cognition, particularly at older ages, is likely to be underestimated owing to higher risk of death and dropout among smokers."
The researchers suggested in their report that the difference between the results of the men and women could be down to the greater quantity of tobacco smoked by men.
They also wrote that although there was no conclusive reason behind the smokers' increased mental decline, it could stem from vascular or lung damage.
"It is increasingly recognised that age-related cognitive pathologies such as dementia result from long-term processes, perhaps beginning as long as 20 to 30 years before the clinical diagnosis of dementia. Our study illustrates the importance of examining risk factors for cognitive decline much earlier in the life course," the co-authors concluded in the study, published online in the journal Archives of General Psychiatry.
A study at Mount Sinai School of Medicine found that decaffeinated coffee improves the brain's energy metabolism - linked to cognitive decline - in those with Type 2 diabetes. "This is the first evidence showing the potential benefits of decaffeinated coffee preparations for both preventing and treating cognitive decline caused by type 2 diabetes, ageing, and/ or neurodegenerative disorders," said lead researcher, Dr Giulio Maria Pasinett.

Everyday games, puzzles and tasks were able to postpone decline in cognitive function and the ability to carry out everyday tasks, in dementia patients, for at least a year, according to research from the University of Erlangen in Germany, published in the journals BMC Medicine.

Eating fewer calories could help boost memory and cognitive function, according to a study at the Catholic University of the Sacred Heart in Rome. Researchers hope to mimic the same effect with a drug in the future, bringing hope to Alzheimer's sufferers as well as those suffering from injury-related memory loss.

Researchers at the University of Pittsburgh Medical Centre and School of Medicine found that people who ate baked or grilled fish regularly reduced their risk of developing Alzheimer's. Reseracher Cyrus Raji said: "The results showed that people who consumed baked or broiled (grilled) fish at least one time per week had better preservation of grey matter volume on MRI in brain areas at risk for Alzheimer's disease."

Working out using virtual games such as the Wii Fit could slow cognitive decline in the over 50s, researchers from Union College in the US found. Participants aged between 58 and 99 were given a 3D exercise game to play. Compared to the control group who were asked to use a regular exercise bike, the 'cybercycle' group had a 23% decrease in advancement of mild cognitive impairment and showed improved 'executive function'.

A study in The Lancet Neurology suggest that 3m cases of Alzheimer's across the world could be prevented in seven simple ways. The report recommends quitting smoking, increasing physical activity, controlling your blood pressure and diabetes risk factors as well as managing depression and obesity to help combat the disease.