Falklands Row: Number 10 Reject Argentina's Claim The UK Is 'Militarising' Island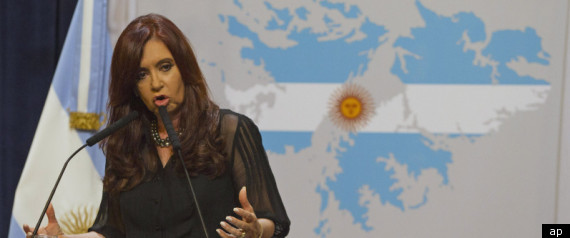 Downing Street has denied rejected claims from Argentina that the UK is "militarising" the Falklands.
Following President Cristina Fernandez de Kirchner saying she would make a formal complaint to the UN about Britain sending a navy warship to the islands, Number 10 said the move was a normal.
"We are not militarising the South Atlantic," a Downing Street spokesperson told reporters on Wednesday. "Our defensive posture in the Falklands remains the same."
Prince William is currently being deployed in the Falklands.

On Tuesday Argentina's President Kirchner said: "I have instructed our chancellor to present formally to the Security Council of the United Nations and before the General Assembly of the United Nations this militarisation of the South Atlantic which implies a great risk for international security."
HMS Dauntless was sent to the Falklands at the end of January. Tensions are running high between Britain and Argentina as the 30th anniversary of the Falklands war approaches.
Last month Argentina's foreign minister described Britain as being in "imperial decline" after David Cameron accused the country of "colonialism" over the Falkland Islands.

Hector Timerman accused the prime minister of rewriting history, according to Argentina'sTelam news agency.
"Obviously at a time when there are only remnants of colonialism, Great Britain, in an imperial decline, decides to rewrite history," he was quoted as saying.
"Not even the English newspapers support Cameron".