Could Chelsea Manager André Villas-Boas Benefit From Guus Hiddink's New Job Move?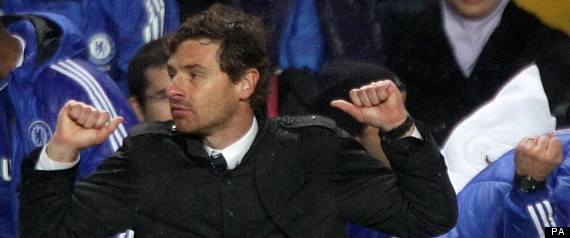 Guus Hiddink has disappointed a faction of the Chelsea squad by agreeing to manage Anzhi Makhachkala, but one man breathing a sigh of relief in west London is probably André Villas-Boas.
Hiddink, set to earn £8.3m per year in Russia, was not attached to a club or country post after he had resigned as coach of the Turkish national side in November. Available and popular with Chelsea players, he arrived at Stamford Bridge midway through the 2008/09 season with the club in disarray after Luiz Felipe Scolari's disastrous tenure.
Chelsea won the FA Cup, sealed a Champions League berth that was in jeopardy and were unluckily eliminated by Barcelona at the semi-final stage of the competition.
Ahead of the weekend's fifth round FA Cup tie at home to Birmingham City, Villas-Boas again appeared relaxed as he held court with the media despite the mounting pressure on him. Hiddink's move east could provide the shot in the arm for his flagging managerial career and its timing is a fillip for Villas-Boas ahead of the round-of-16 Champions League tie against Napoli next week. Especially after last weekend's dismal defeat to Everton compelled the Portuguese to label the performance as "one of our worst" of the season.
There is however a risk that Villas-Boas could soon be accused of the same carefree attitude that Fabio Capello was subjected to.
Although ambitious, he was aware that taking the Chelsea job was a win-win scenario. If sacked, he is richer and his credibility is barely tarnished thanks to Roman Abramovich's itchy trigger finger, a lack of time afforded and egocentric players. If a success, his reputation is enhanced.
Villas-Boas maintains that there is no rift with the rarely-seen Gary Cahill:
@BluesChronicle

Dan Levene
Fernando Torres may not be scoring, but he is typing:
@chelseafc

Chelsea FC
Blame would even get apportioned to the vocal faction who tore into their coach during a meeting at the club's Cobham training ground last Sunday. Disgruntled at poor man-management and keen to stress that they were not subscribers to Villas-Boas's philosophy, Abramovich witnessed his employee lose the confidence of certain players right before his eyes.
That Villas-Boas ignominiously holds the worst win record of a Chelsea manager in the Abramovich era suggests that his employer has perhaps mellowed. So the owner of a football club finds himself in the extraordinary scenario of backing a manager not backed by players, probably because of his own infamy.
Such is Villas-Boas' contentedness amidst a fraught environment that he had no inhibitions about informing the media that recent signing Gary Cahill's wage demands were too high and that he wasn't his signing. Despite such candour, his position is actually as secure as Chelsea's defence is insecure.
And with relationships so estranged, that implicit trust which is essential in football just doesn't exist, and it could all shortly collapse at the Bridge.