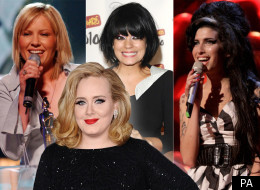 Adele is likely to triumph at the Brit Awards tonight, after a record-breaking year and a stunning roll of six Grammy Award wins last weekend.
Bookmaker Ladbroke's has the Rolling In The Deep singer as favourite to win the Best Female Solo Artist category, where she's pitched against fiery Florence & the Machine, relative newcomer Price Tag singer Jessie J, veteran Kate Bush, whose 1978 debut single, Wuthering Heights, was the first British number one to be both written and sung by a woman, and last year's winner, folk singer Laura Marling.
Below, we take a look back at the winners of the Best Female Solo Artist category over the past ten years in a slideshow and ask: does Adele top them all? Let us know your thoughts below...
2002 winner Dido shot to worldwide success with her debut 1999 album, No Angel. The album sold in excess of 21 million copies worldwide, but her most famous songs Thank You and Here With Me are now mainly played on Magic FM.

2003 winner Ms Dynamite was once the lady of the moment, but since she was first in the spotlight things have changed a lot. With the UK charts moving far away from the Garage hits that made her famous. However, last year the double Brit Award and three time MOBO Awards-winning star revealed she's preparing, after a five-year hiatus, to blow up the urban music scene all over again.

2004 winner Dido earned another Brit for her second best-selling album Life For Rent, but didn't pick up her award in person in 2004. The success of her music in the first decade of the 21st century earned her the number #98 spot on the Billboard 200 Artists Music Chart.

2005 winner Joss Stone seems to have lost her popularity in the UK somewhere along the way, with her third and fourth album having more success Stateside.

2006 winner KT Tunstall's most memorable song was the Ivor Novello-winning 2005 single Suddenly I See from her debut album Eye To The Telescope... nothing since has made quite as much of a mark.

2007 winner Amy Winehouse, who died in 2011, has the type of musical legacy that will never be forgotten. Her songs transcend fads and changing music scenes and her global fanbase remains loyal to her genius to this day. She will be remembered at tonight's Brit Awards.

2008 winner Kate Nash made her mark on music like Lily Allen, with a thoroughly British kind of pop: no frills, just lyrics loaded with savage wit. Her first album Made Of Bricks was a platinum selling UK number 1, and her most famous single Foundations, about a relationship crumbling, is still being played. However, her follow-up attempts haven't gone down so well.

2009 winner Duffy's debut 2008 album Rockferry sold 2.2m copies in the UK, but her second album, 2010's Endlessly, shed 90% of her audience to sell only 200,000 copies - a very different story to what happened to Adele's second album.

2010 winner Lily Allen earned a place in the hearts of music fans through her songs and the cheerful candour of their intimacy. The 2009 single Not Fair bemoaned an ex-boyfriend's premature ejaculation, and Allen was applauded with paving the way for women to sing about whatever they wanted. In 2009 she decided take a break from music at the tender age of 25. However, her songs still gets regular airplay and in 2011 The Smile star dusted off her voice to provide guest vocals on Professor Green's song Just Be Good To Green.

2011 winner Laura Marling is once again in the running to take home the gong for 2012, but while loved by the critics, her music has not touched a global audience like that of Adele.