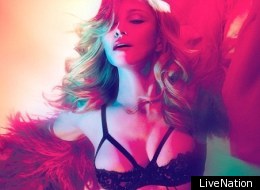 Madonna has debuted her sexually charged new single Girls Gone Wild on the web.
And the lyrics video for the catchy electro-pop song, which recalls Madge's 2005 single Hung Up, allows fans to learn the words, including a chorus of "hey-ey-ey-ey-eys".
Madonna's 12th studio album, MDNA, from which the track is taken, is released on 26 March.
Speaking about her latest album, Madonna recently told The Los Angeles Times: "I feel like all the records on the radio right now have a homogenized quality to them. I've made a huge effort to try and not sound like everybody else."
The full music video for Girls Gone Wild was shot earlier this month, directed by fashion photographers Mert Alas and Marcus Piggott, but it is yet to be released.
What do you think? Is Girls Gone Wild different to other music in the charts? Let us know below.