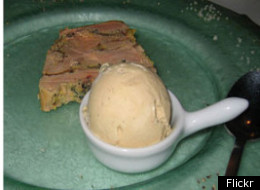 Following the research by the Oregon Research Institute that Häagen Dazs ice cream can be as addictive as cocaine, we wondered if these unsavoury global ice cream flavours would get you addicted - or simply make you feel sick.
From raw horse flesh and vanilla, squid ink to frozen foie gras and spaghetti cheese ice cream - take a look at our round-up of 20 most bizarre ice cream flavours from around the world.
Bizarre Ice Cream Flavours
Ever wondered what squid ink tastes like? Order a squid ink ice cream (with a flake?!) to find out. If squid ink doesn't appeal, you could always try a chewy octopus ice cream called Taco Aisu - another Japanese ice cream delight.

Gilroy, a town in California prides itself as the garlic capital of the world and has created a garlic tasting ice cream to cement its reputation.

If you prefer your chicken wings cold - or frozen - chicken ice cream is the way forward. This southern fried icy favourite is found in Nagoya, Japan, which is famous for its poultry.

Made with cheese flavoured ice cream and ground up spaghetti, this ice cream flavour is popular in Germany and Italy.

This charred ice cream combines the carbon taste of coal and the cold sensation from the ice.

Candied bacon ice cream is a popular flavour among big meat eaters. It's made by adding egg custard and chopped crispy bacon, marinated in maple syrup.

Enjoy caviar with a twist with this posh, gourmet ice cream made of white sturgeon Alverta Royal Petrossian caviar and plain ice cream. This is mostly found in France.

In the Philippines you're more likely to find your favourite cheddar cheese in a bowl of ice cream than you are between two slices of bread. This ice cream even has chunks of cheese to add to the tangy cheese flavour.

Crab ice cream, otherwise known as Kani Aisu is another favourite flavour in... you guessed it, Japan.

Potatoes combined with ice cream are a firm favourite in Japan for its combination of sweet tastes and stodgy texture.

If you fancy a salad with an edge, enjoy your cucumber, peppers and lettuce in ice cream form. Another favourite among Japanese ice cream enthusiast

Although it's frozen, the Japanese curry flavoured ice cream packs a punch and is apparently so spicy, the taste lingers in your mouth for hours.

Promising to boost your performance in the bedroom, the viagra ice cream is a fruity mixture of gingko biloba, arginine and guarana - all well-known aphrodisiac ingredients. This flavour was invented by Italian entrepreneur, Franco Corradi. Note that the ice cream is also the same colour as the Viagra pill...

This French ice cream delicacy was created by specialist's Phillippe Faur and is made from the liver of a duck or goose fattened by force feeding. This dessert costs from £100 and doesn't come with a cone.

Goats ice cream is a very popular ice cream flavour in Asia. This unusual flavour is made from goats milk, complete with tasty chunk of goats meat...

Also known as the 'cold sweat', this chilli infused ice cream is a concoction of the hottest chillis and ice cream. This bizarre ice cream flavour is thought to have originated in Mexico.

Another Japanese favourite, the ox tongue ice cream contains chunks of tongue combined with sour milk ice cream.

This unsavoury flavour is made of vanilla ice cream mixed with raw horse flesh, isn't for those with a weak stomach. Also known as Basashi Ice, it's a favourite in Japan.

Sweetcorn ice cream is a popular ice cream flavour in the US and people choose to have the kernels hard and crunchy, or blended in with the milky ice cream mix.

Frozen tartare - raw meat - is the 'trendy' ice cream du jour. Enjoy it from a cone complete with a herb garnish.