Morrissey's big mouth has struck again, ramping up his rhetoric on the Falklands while his band sported anti-monarchy T-shirts on stage.
The 52-year-old Queen is Dead singer's band took to the stage wearing T-shirts with the bold slogan "We hate William and Kate", featuring a picture of Kate Middleton and Prince William on their wedding day.
"The [British] government, the governments, never listen to the people, to their pain."
While the T-shirts provoked outrage in some quarters, others thought the episode was amusing.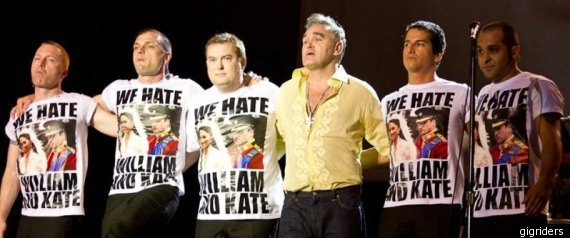 (Flickr photo by Facundo Gaisler/Gigriders.)
"You know of course the Malvinas Islands, everybody knows they belong to Argentina," Morrissey told an Argentinian crowd.
The singer's comments, which come as the 30th anniversary of the conflict nears, were captured in a video posted on YouTube on Friday, which claim to show him speaking during a performance in the city of Cordoba on Thursday evening.
To applause from the crowd he added: "So please do not blame the British people, we know the islands belong to you."
SUBSCRIBE TO & FOLLOW UK DAILY BRIEF