Top Gear has confessed to staging a traffic jam in which James May was stuck in Chris Evans' £5.6m Ferrari California Spider behind three learner vehicles.
The latest episode of the BBC TV series showed May forced to reverse on a tight road in the Radio 2 host's pride and joy after being hemmed in.
"It is not a documentary," they added.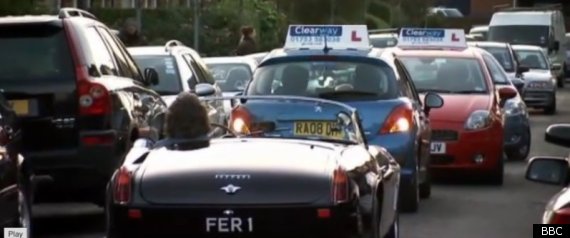 "Their remit was to get in his way and make life awkward for him. We were there for comic effect."
Sounding relaxed on Twitter, Evans tweeted before Sunday's show:
The hit car-obsessed programme is applauded for its entertainment value, with eight million viewers often tuning in, so should it really be criticised for staging scenes?
In 2009, Top Gear bosses also admitted setting up a stunt involving a caravan attached to an airship straying over Norwich airport, provoking police to intervene.
At the time, a BBC spokesperson said: "As an entertainment programme, Top Gear prides itself on making silly films that don't pretend to represent real life. Any suggestion it deliberately misled viewers is patently ludicrous."
SUBSCRIBE TO & FOLLOW UK ENTERTAINMENT