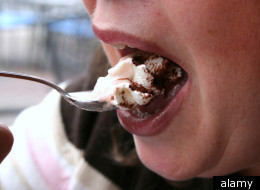 People who are overweight in their 60s are at higher risk of brain decline, a new study has found.
Researchers studied 250 adults aged between 60 and 70 and found those with a higher body mass index (BMI) and bigger waists performed more poorly in cognitive tests.
The participants had their BMI and waist measurements recorded and underwent an abdominal CT scan and a MMSE test to measure cognitive performance.
The Mini Mental State Examination (MMSE) test is the most commonly used test for complaints of memory problems or when a diagnosis of dementia is being considered.
The Korean study, published in the journal Age and Ageing, found that in those aged between 60 and 70, both a high body mass index (BMI) and large waist circumference were linked to poor cognitive performance.
However, in participants aged 70 and older, high BMI, waist circumference and abdominal body fat were not associated with low cognitive performance.
As well as BMI, the research also found a link between high levels of fat around internal organs and low cognitive function.
Professor Clive Ballard from the UK Alzheimer's Society said: "We have all heard how a high BMI is bad for our heart but this research suggests it could also be bad for the head. Although we don't know whether the people in this study went on to develop dementia, these findings add to the evidence that excess body fat could impact on brain function.
"One in three people over 65 will die with dementia but there are things people can do to reduce their risk. Eating a balanced diet, maintaining a healthy weight, exercising regularly and getting your blood pressure and cholesterol checked can all make a difference."
Alzheimer's Society research shows that 750,000 people in the UK have a form of dementia, more than half have Alzheimer's disease. In less than ten years 1m people will be living with dementia. This will soar to 1.7 million people by 2051.
A study at Mount Sinai School of Medicine found that decaffeinated coffee improves the brain's energy metabolism - linked to cognitive decline - in those with Type 2 diabetes. "This is the first evidence showing the potential benefits of decaffeinated coffee preparations for both preventing and treating cognitive decline caused by type 2 diabetes, ageing, and/ or neurodegenerative disorders," said lead researcher, Dr Giulio Maria Pasinett.

Everyday games, puzzles and tasks were able to postpone decline in cognitive function and the ability to carry out everyday tasks, in dementia patients, for at least a year, according to research from the University of Erlangen in Germany, published in the journals BMC Medicine.

Eating fewer calories could help boost memory and cognitive function, according to a study at the Catholic University of the Sacred Heart in Rome. Researchers hope to mimic the same effect with a drug in the future, bringing hope to Alzheimer's sufferers as well as those suffering from injury-related memory loss.

Researchers at the University of Pittsburgh Medical Centre and School of Medicine found that people who ate baked or grilled fish regularly reduced their risk of developing Alzheimer's. Reseracher Cyrus Raji said: "The results showed that people who consumed baked or broiled (grilled) fish at least one time per week had better preservation of grey matter volume on MRI in brain areas at risk for Alzheimer's disease."

Working out using virtual games such as the Wii Fit could slow cognitive decline in the over 50s, researchers from Union College in the US found. Participants aged between 58 and 99 were given a 3D exercise game to play. Compared to the control group who were asked to use a regular exercise bike, the 'cybercycle' group had a 23% decrease in advancement of mild cognitive impairment and showed improved 'executive function'.

A study in The Lancet Neurology suggest that 3m cases of Alzheimer's across the world could be prevented in seven simple ways. The report recommends quitting smoking, increasing physical activity, controlling your blood pressure and diabetes risk factors as well as managing depression and obesity to help combat the disease.