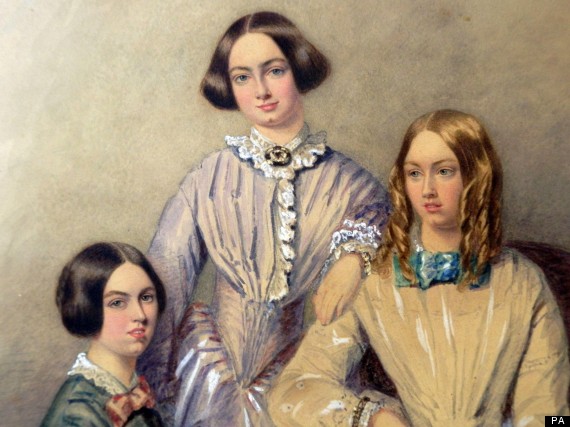 The Bronte sisters believed to be by Sir Edwin Landseer
An auctioneer is hoping to score a hat-trick, selling a third item believed to be linked to the literary Bronte sisters.
The painting, thought to be a hitherto unknown watercolour of all three sisters, is the latest in the series of unrelated items concerning the trio to go under the hammer.
Believed to be painted by 19th century English artist Sir Edwin Landseer, it will be included in a two-day fine art and antiques sale later this month at J.P.Humbert Auctioneers in Northamptonshire.
Auctioneer Jonathan Humbert said there was no estimate on the latest discovery as it was impossible to say how much it would fetch, but he was hoping for a third sale of a Bronte-related artefact.
Mr Humbert said the painting, which appears to show all three sisters, has been attributed by a team from the National Portrait Gallery as well as four years of research by the vendor.
He said there were 10 evidential reasons supporting the suggestion it is of the Bronte sisters, and said its quality suggested it could only be attributed to an artist of Landseer's distinction.
The piece of art is believed to be signed by Landseer, and matches known features of the sisters.
"This is an exciting and important painting of museum quality and has a story to tell," he said. "I hope the art world will embrace it accordingly.
"There really is every possibility this is by Landseer and of the three Bronte sisters."
The manuscript set new auction records for a manuscript by Charlotte Bronte and for a literary work by any of the Bronte sisters when it was bought by Paris museum La Musee des Lettres et Manuscrits.
The latest painting relating to the sisters is set to go under the hammer on 26 April as part of a two-day fine art and antiques sale at J.P.Humbert's saleroom in Towcester, Northants.
Women who had to pretend:
Women Writers Who Published Under A Male Pen Name
SUBSCRIBE TO & FOLLOW UK DAILY BRIEF