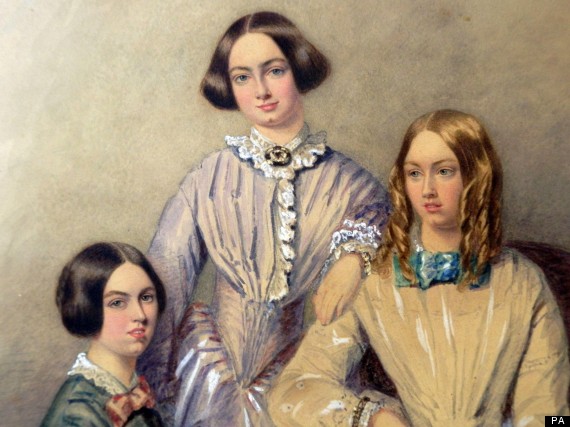 The Bronte sisters believed to be by Sir Edwin Landseer
An auctioneer is hoping to score a hat-trick, selling a third item believed to be linked to the literary Bronte sisters.
The painting, thought to be a hitherto unknown watercolour of all three sisters, is the latest in the series of unrelated items concerning the trio to go under the hammer.
Believed to be painted by 19th century English artist Sir Edwin Landseer, it will be included in a two-day fine art and antiques sale later this month at J.P.Humbert Auctioneers in Northamptonshire.
It follows the auction house's sale of a small portrait believed to be of Emily Bronte recently for £4,600. In December, J.P.Humbert's sold another painting of the reclusive writer for £23,836.
Auctioneer Jonathan Humbert said there was no estimate on the latest discovery as it was impossible to say how much it would fetch, but he was hoping for a third sale of a Bronte-related artefact.
Mr Humbert said the painting, which appears to show all three sisters, has been attributed by a team from the National Portrait Gallery as well as four years of research by the vendor.
He said there were 10 evidential reasons supporting the suggestion it is of the Bronte sisters, and said its quality suggested it could only be attributed to an artist of Landseer's distinction.
The piece of art is believed to be signed by Landseer, and matches known features of the sisters.
"This is an exciting and important painting of museum quality and has a story to tell," he said. "I hope the art world will embrace it accordingly.
"There really is every possibility this is by Landseer and of the three Bronte sisters."
The sale of an unpublished manuscript by sibling Charlotte Bronte prompted a flurry of items relating to the literary sisters when it sold to a Paris museum for a record £690,850 at Sotheby's in December.
The manuscript set new auction records for a manuscript by Charlotte Bronte and for a literary work by any of the Bronte sisters when it was bought by Paris museum La Musee des Lettres et Manuscrits.
The latest painting relating to the sisters is set to go under the hammer on 26 April as part of a two-day fine art and antiques sale at J.P.Humbert's saleroom in Towcester, Northants.
HuffPost Culture recently ran a feature on female writers who were forced to adopt male pen names to be successful - including the Bronte sisters.
Women who had to pretend:
Women Writers Who Published Under A Male Pen Name
Keeping it in the family, the three talented Brontë sisters published their writing under the surname Bell. Emily published Wuthering Heights as Ellis Bell, Charlotte brought out Jane Eyre as Currer Bell and Anne used Acton Bell to release The Tenant of Wildfell Hall, as well as their joint poetry collections and other works.

A. S. Byatt was born Dame Antonia Susan Duffy, but has been publishing writing under her androgynous pseudonym since 1964. Her novelist sister uses her birth name professionally.

Vita Sackville-West's gender-confusing pen name is a shortened version of the far flouncier The Hon Victoria Mary Sackville-West, Lady Nicolson, which she was born with. Famously the lover and muse of Virginia Woolf, Sackville-West published novels and poetry under her pen name, including The Edwardians and All Passion Spent.

Despite bringing out the best-selling book series in history (Harry Potter, if you hadn't heard) in 1997, Rowling was advised by her publisher to swap her full name for two initials. Born Joanne Rowling, she chose 'K' from her grandmother Kathleen, which she adopted again during the Leveson Inquiry when she gave evidence.

Jane Austen published her debut novel Sense and Sensibility using merely 'A Lady' in 1811. The fact that she was happy to show herself as a woman, but not identify herself further, has mystified academics ever since. PHOTO: Getty

Harper Lee dropped the 'Nelle' at the beginning of her name to publish her only novel, the autobiographical To Kill A Mockingbird. PHOTO: Getty

George Eliot was born Mary Ann Evans, and went on to author seven hugely successful novels, including Mill on the Floss and Middlemarch - which has been deemed the greatest novel in the English language by authors Martin Amis and Julian Barnes. She wanted to be taken seriously, and thus used her male pseudonym, and is still known as such today. PHOTO: Getty

An author used to both different languages and pen names, Blixen has published under Isak Dinesen, Osceola and Pierre Andrézel and is famous for her novel Out Of Africa. PHOTO: Getty

Despite being deemed the "first modern writer for children" by biographer Julia Briggs, Edith 'E.' Nesbit published over 40 children's books using her first initial, rather than her full name.