UPDATE: A man has been arrested. More soon.
Police said: "We have made an arrest. A man has been arrested and a search of the buildings is underway. The cordon around the area will be removed in due course. There are no indications of hostages involved."

The Huffington Post UK building has been evacuated after a man reportedly wearing a gas canister threatened to blow himself up in the adjoining building.
Tottenham Court Road has been cordoned off. Armed police are attending the scene and police have sent a hostage negotiator, however police say it is unclear if there are any hostages with the man, reported to be 50-year-old Michael Green.
Police did not confirm or deny there were any snipers at the scene, saying: "It's not a matter than we ever discuss but we always deploy appropriate police resources to any incident."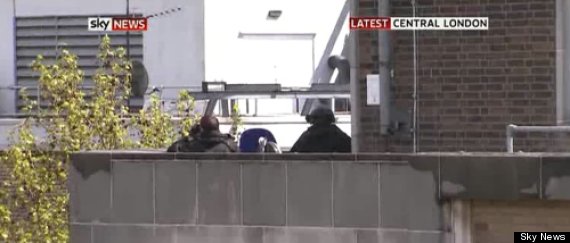 People near the scene have reported shots being fired and that computers and equipment has been thrown out of the windows of the office block.
According to Abby Baafi, 27, the head of training and operations at Advantage, a company which offers HGV courses, said the man had targeted her offices and was currently holding four men hostage. She told The Huffington Post UK: "He just turned up, strapped up in gasoline, gasoline cylinders. Basically he threatened to blow up the offices. Says he doesn't care about his life, doesn't care about anything."
"He was specifically looking for me but I said 'My name's not Abby' and he let me go."
Reports from the scene suggest buildings as far as two streets away have been evacuated, including UCH's Macmillan Cancer Centre.
Sarah O'Meara, who works for the Huffington Post, said they evacuated their offices in nearby Capper Street after being alerted by a woman who ran into the building.
"A woman ran in off the street saying 'There is a guy with a bomb and he is threatening to blow himself up' and that we needed to evacuate," she said.
"Everyone got out.
"The police have been moving people back street by street. It is now at Grafton Way."
TVs being thrown outside the window of the offices


Scroll down for more images and tweets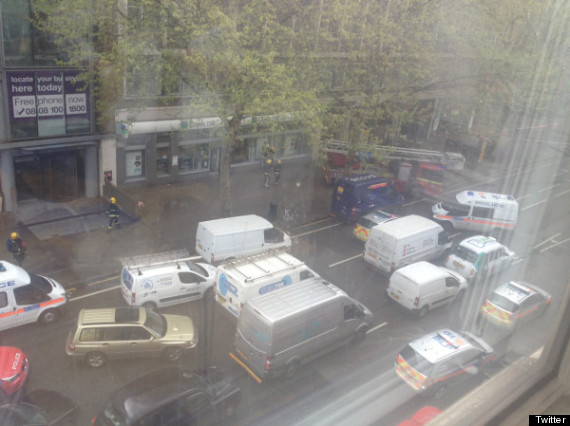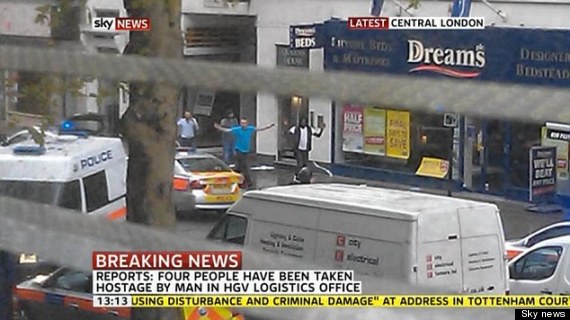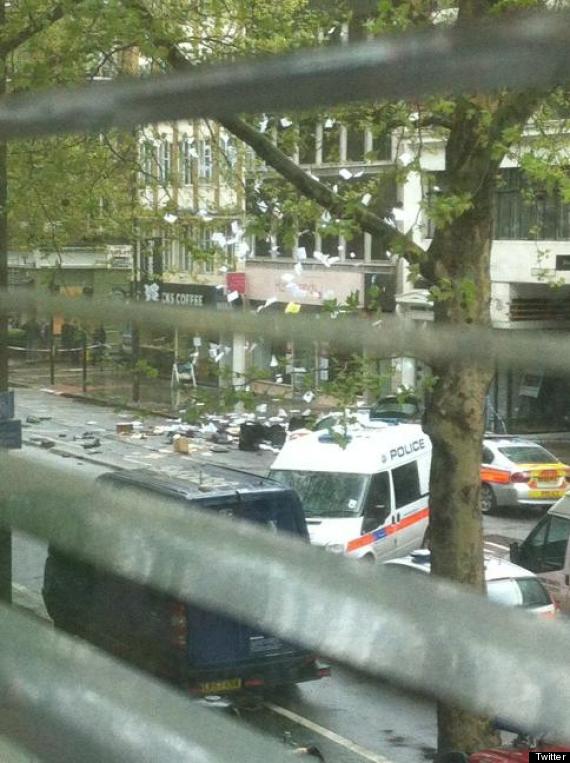 27/04/2012 17:45 BST
Police cordons have been lifted around the offices next to the incident
Huff Post UK staff have been allowed back in, things seem to be winding down. We'll bring you more details on this blog as an when we have them.
27/04/2012 17:44 BST
Police statement
In a statement this afternoon, Commander Mak Chishty said: "We were called at midday to reports of a man causing a disturbance on Tottenham Court Road. He was located on the 5th floor of the building at No. 179.
"Items were thrown from the window onto the street below.
"We were concerned that he may have explosive materials or flammable liquids with him. Our immediate concern was for the safety of the people inside the building and for the general public in the vicinity.
"Specialist Metropolitan Police negotiators were called to the scene, with colleagues from London Ambulance Service, London Fire Brigade, and specialist firearms officers.
"During the course of the incident a number of people who were inside the building left peacefully.
"After contact with our specialist police negotiators the man came out of the building, and was arrested at 15.00hrs. He is now in police custody.
"We are currently searching the premises to ensure that they are safe, and will begin a process of returning the area to normality as soon as possible.
"We would like to thank the local community, the business community and yourselves [the news media] for their co-operation this afternoon."
27/04/2012 15:14 BST
Police said: "We have made an arrest. A man has been arrested and a search of the buildings is underway. The cordon around the area will be removed in due course. There are no indications of hostages involved."
27/04/2012 15:10 BST
@ metpoliceuk :

We have arrested a man at Tottenham Court Road. A search of the building is underway. Further details to follow #TCR
27/04/2012 15:10 BST
BREAK
Sky reporting a man has been arrested
27/04/2012 15:03 BST
From PA
Rajesh Kalia, of Goodge Law solicitors, who works two floors below where the incident was unfolding in Shropshire House, relived the drama.
The lawyer said: "We were in the office and suddenly we were told by the police that there was some problem in the building and asked to evacuate immediately.
"The police were very clear about the instructions. There was no panic or anything but they were very firm and got everybody out of the building very, very quickly.
"I overheard someone say that there was a man in there with some wires coming out of his jacket.
"Now, I don't know how much of that is true but that's the impression they gave us.
"They mentioned something about a flame-thrower, the jacket and wires coming out of it, and that's about it.
"We're two floors below where this was happening.
"We heard some shouting in the stairwell and then were asked to leave by the police so I think the police got there pretty quick."
27/04/2012 14:54 BST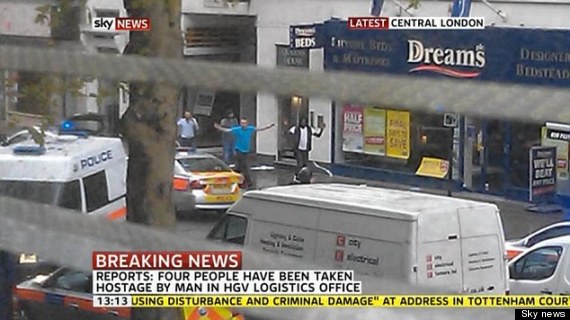 27/04/2012 14:47 BST
It's still unclear if hostages are inside the offices - Sky News have more info
@ skymarkwhite :

Eyewitness tells Sky News 3 people led from stand-off building #tcr claiming there was still a person inside with man at centre of siege
27/04/2012 14:41 BST
Paul Vale, our deputy news editor
"We've been pushed all the way back to Euston road. There are maybe 50 people here by the police cordon. Earlier there were just 100s of people floating around in front of the cordon. They've shut all the underground stations near here."
27/04/2012 14:39 BST
This is pretty great footage
@ itn :

LONDON SIEGE: Aerial footage captures the reported hostage situation taking place on Tottenham Court Road. #TCR http://t.co/72tzxlSM
SUBSCRIBE TO & FOLLOW UK DAILY BRIEF