The Sun newspaper has been accused of bullying by football supporters and media after their front page splash on new England manager Roy Hodgson.
Days after Rupert Murdoch stated his papers would produce serious journalism, the redtop tabloid's headline this morning read "BWING ON THE EUWOS (WE'LL SEE YOU IN UKWAINE AGAINST FWANCE)", in reference to Hodgson's speech impediment.
Whereas the majority of other media outlets have shown Hodgson, 64, the dignity which he displayed at his Tuesday press conference, the Murdoch paper has instead continued its vendetta against the former Liverpool boss.
Look out for the Ad just below here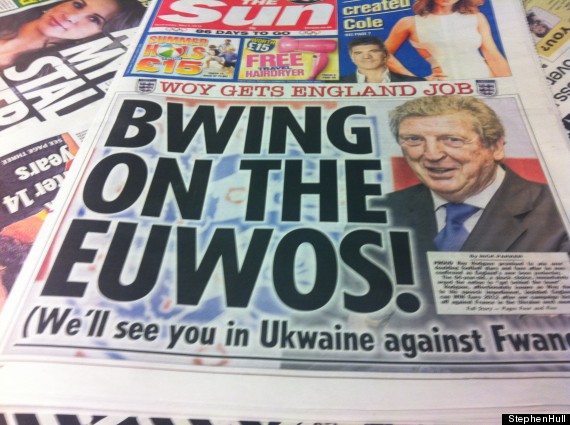 The Sun were notoriously synonymous with their partisan calls for Harry Redknapp to be appointed England manager.
Redknapp, a former columnist with the paper, was heir apparent to the role Fabio Capello vacated on the same day the Tottenham boss was acquitted of tax fraud charges.
However the 65-year-old was overlooked by the Football Association in favour of the more experienced Hodgson and not even interviewed for the vacant managerial post.
On Twitter, The Sun was trending on Tuesday morning as journalists and even footballers lambasted them for their disrespect shown towards Hodgson.
Phil Neville, who did a U-turn and voiced his support for Hodgson having tweeted earlier in the season Redknapp should be the first name on the Euro 2012 teamsheet, tweeted his dismay:
Brother Gary also joined in:
Members of the media also voiced their unhappiness at The Sun:
@ianprior

ian prior
@mrjakehumphrey

Jake Humphrey
I think today's headline in The Sun is offensive.
@jamesjamesbrown

james brown
@simoncaney
the sun, Murdoch, the government, NoTW - riddled with bad ideas, corruption and bullying.
@nevpierce

Nev Pierce
Ah, what a small, poisonous paper The Sun is.
@TheFarm2012

TheFarm/PeterHooton
Whatever u think of Roy Hodgson & the FA's decision to appoint him The Sun's front page today is an absolute disgrace
#gutterpress
Whilst others mocked the contrast:
@JulianRWPower

Ju Power
Roy Hodgson can speak five languages. The Sun can barely write in one.