Results are coming in from the 2012 local elections in England and Wales, and all indications are that Labour are making significant gains at the expense of the coalition parties.
With about half of the English and Welsh councils declared the results are starting to look particularly embarrassing for David Cameron, who has seen Labour make gains in Tory heartlands. Elsewhere Nottingham, Manchester and Coventry all voted No to the PM's plan to have elected Mayors. A referendum on in Birmingham is likely to produce the same result.
By 7:00 on Friday morning Labour had gained more than 450 council seats in England - while the Tories had lost over 250 seats and the Lib Dems had lost nearly 130 councillors. Turnout was projected to be 32% - a disturbingly low figure, even for local elections.
Labour were up by nearly 100 councillors in Wales, the Tories were down 30 and the Lib Dems down 25. Paid Cymru were down 12 councillors.
Key councils such as Thurrock, Harlow, Southampton, Birmingham, Norwich, Great Yarmouth and Chorley fell to Labour.
The Prime Minister was also embarrassed by losses in his Oxfordshire constituency - with Labour taking the seats of Witney Central, Witney East and Chipping Norton.
Labour also won the Liverpool Mayoral election - with Joe Anderson, a former leader of the council - winning by a landslide.
Andy Sawford from the local government think-tank LGiU told HuffPost on Friday morning: "Ed Miliband has hugely strengthened his leadership of the Labour party, having won more than the number of seats and councils that were predicted at the half way stage, with more counts to come today.
"Crucially though he will point to the correlation between council gains and the key marginals that Labour needs to win if it is to have a chance of forming the next government."
But it wasn't all plain sailing for Ed Miliband - shortly after 5am the Labour leader of Bradford Council lost his seat to a Respect party candidate. The party gained five seats overall - the council remains under no overall control.
Click here or scroll down for live updates
Although the rain has held off in London for most of the day, Thursday was a washout across much of the Midlands - torrential downpours in places like Nottinghamshire and Derbyshire could suppress what's widely predicted to be a low turnout.
Austerity measures mean that many councils are not counting votes overnight - about a third are holding off until later on Friday morning, as is London and every count in Scotland.
See also:

Tactical Voting Expected In London Mayoral Contest

Massive Rejection For Cameron's Elected Mayors Plan
So it's going to be a long process of drip-drip results. The narrative - we expect - is for the Tories and Lib Dems to suffer bad headlines first thing in the morning, when it will become clear they're on course to lose hundreds of council seats.
But Labour will not be crowing. In addition to their problems in Bradford, it could easily be their turn to feel the wrath of voters later in the day when the results of the London and Glasgow elections come in. Many fear that Ken Livingstone is going to lose out against Boris Johnson, and that Glasgow Council, the so-called "jewel in the crown" of Labour's local powerbase, could be lost to an SNP surge.
There was another setback for Labour in Bradford, when the party's council leader was defeated by a Respect candidate. The result emulated George Galloway's shock success in last month's parliamentary by-election.

A BBC projection of the national results suggested that Labour received 39% of the vote, the Tories 31%, Lib Dems 16% and others 14%.
Voting in the London Mayoral Election begins at 8:45am - with a declaration expected by Friday evening.
05/05/2012 00:34 BST
41-hours after polls opened Boris is mayor and we can all go to bed
So over 41 hours after polls opened on Thursday morning, Boris Johnson is mayor of London and we can all go to bed to dream analytical dreams about what the results mean for the country.
04/05/2012 22:45 BST
London Elects: 'Several Hundred' votes to be manually checked
Probable ETA of a declaration is about an hour, hopefully less (please)
04/05/2012 22:44 BST
Statement on the count delays from London Elects...
London Elects statement:
We have results in from 13 of the 14 constituencies in the Mayor of London and London Assembly election.

The final constituency is Brent & Harrow. The Greater London Returning Officer has been in touch with the CRO for Brent & Harrow to establish the reason for a delay.

All batches of ballot papers were registered and scanned. Two batches went to storage without some ballot papers being manually entered as required. Manual entry is required when a scanner cannot read a ballot paper – for example if a ballot paper is damaged. It is not an issue with the scanners.

The issue was identified during the verification stage. These two batches are being re-processed. To make this happen as quickly as possible we have separated out into several smaller batches. This is why the progress screens appear to show a changing number of verified ballot papers.

We will declare as soon as possible but it is obviously important that every vote is counted.
04/05/2012 22:29 BST
What's happening at City Hall?
Well we don't entirely know. The latest is that at least two ballot boxes were found unscanned at the Brent count, and they're now being counted by hand, for some reason.
There are rumours that Ken's team has asked for a full recount in Brent, which would delay things for another few hours.
London elects thinks it'll be only another 20 mins, but they've been saying that for nearly two hours.
04/05/2012 19:44 BST
YouGov are calling it for Boris..
@ tnewtondunn :

The Sun's pollster Peter Kellner of YouGov calls it - "Boris has won. He has too big a lead for Ken to overturn".
04/05/2012 18:24 BST
Ken-supporting constituencies now coming in...
It's leading to a sharp narrowing in the polls between the two candidates. On 1st preference votes Boris now has 44% and Ken 40% - 8 out of 14 constituencies have now declared.
04/05/2012 17:07 BST
London Mayoral Vote Getting Tight...
Here's the latest.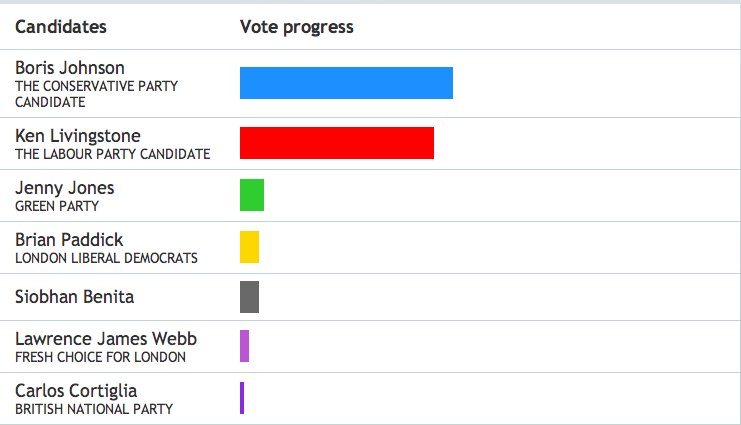 People are talking about 50/50 odds between Ken and Boris. The atmosphere at City Hall has changed dramatically in the past half hour.
04/05/2012 16:40 BST
Ed Miliband: We're coming back
Ed Miliband, speaking in Southampton, has declared that Labour is "coming back".
This comes after Labour took control of Southampton from the Conservatives.
He railed against the "out of touch government in Westminster".
"David Cameron promised change, not for the better but for the worse. Today in Southampton, it is a rejection of the economic failure of this government, and the unfairness of this government". he added
He also boasted that Labour is "beating back" the SNP in Scotland.
He recognised the low turnouts, saying it showed there was "still more to do".
04/05/2012 16:35 BST
Peter Bone MP - 'This is the beginning of the end of the coalition'
Conservative MP Peter Bone has said that the PM has 'one hand tied behind his back'.
"Worst of all, we've got the Liberals holding us back" he added
The results signified the "beginning of the end of the coalition", he told the BBC.
"We're seeing Boris winning as a Conservative in London, yet the Coalition losing against Labour. So the message must be let's come out of this coalition as soon as possible." he said
04/05/2012 16:25 BST
Liam Byrne optimistic despite Birmingham no vote
Liam Byrne, who quit the Shadow Cabinet in preparation for running for Birmingham Mayor, has just tweeted this
@ LiamByrneMP :

A huge thanks to ALL who supported Yes2Mayor, Albert and me: our job now is to get 4-square behind our brilliant new Lbr council #brummayor
This Blogger's Books and Other Items from...
SUBSCRIBE TO & FOLLOW UK POLITICS