Dalai Lama, Templeton Prize Winner, Speaks To Arianna Huffington About Sleep, Training The Mind And Compassion (VIDEO)
Tibetan Buddhist leader, the Dalai Lama, has told how training the mind, sleep and maintaining good emotional health can benefit society as a whole.
Speaking to Arianna Huffington on the day he was awarded the Templeton Prize in London, His Holiness said the mind could be stimulated in the same way as the body to improve mental strength.
Crowds gathered in the rain on Monday at St Paul's cathedral - which was the scene of the Occupy London protests - to catch a glimpse of the exiled Tibetan spiritual leader.
The Huffington Post was privileged enough to spend time with His Holiness, where the benefits of positive thought, the misuse of alcohol and the secrets of sound sleep were discussed.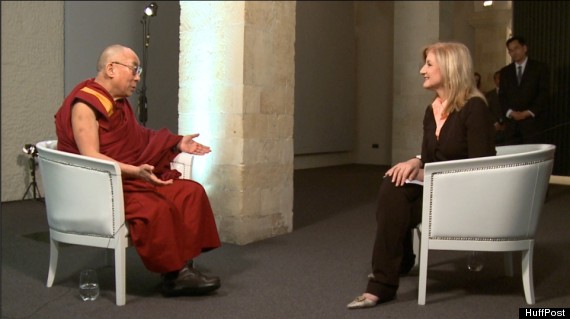 The Dalai Lama talking to Arianna Huffington as he was awarded the Templeton Prize at St Paul's
Earlier, His Holiness, 76, revealed he will donate the majority of his £1.1m Templeton Prize money to Save the Children.
His Holiness, the head monk of Tibetan Buddhism, received the prize for his "engagement with science and with people far beyond his own religious traditions," the prize judges said.
Tenzin Gyatso, the 14th Dalai Lama, told attendees there to watch him collect the prize:
"Brothers and sisters, I am very happy to receive this award. I always stress I am nothing special. I am a person simply, one of the 7bn human beings. Can you make some distinction, my nose, my eyes, my ears? I think everybody's the same here," he smilingly told the conference.
"Unfortunately no third eye, that would be something special," he added, chuckling.
Meanwhile, China accused the Dalai Lama of being deceitful after he alleged Chinese agents trained Tibetan women to assassinate him by planting poison in their hair for him to touch during blessings.
Watch A Slideshow Of Interview Highlights Below:
Dalai Lama With Arianna Huffington
Arianna Huffington talks to the Dalai Lama about his work with neuroscientists and the relationship between science and spirituality.

Arianna Huffington and the Dalai Lama discuss the problem of over-medicating and prescription drugs with the Dalai Lama.

The Dalai Lama is keen on the effects of rest and sleep and in this exclusive interview with Arianna, gives his secrets to a good night's sleep.

The Dalai Lama gives his tips on peace of mind and how to achieve it to Arianna as she talks to him in an exclusive interview at St. Paul's Cathedral.

Arianna Huffington sat down with the Dalai Lama in an exclusive interview at London's St. Paul's Cathedral. In the interview, Arianna asks his Holiness about his work with science and how he bridges it with his spirituality, sleep and GPS for the soul.