Rudy Eugene's cannibalistic attack on a homeless man in Miami is being blamed on a synthetic drug known as 'bath salts'.
Eugene was shot dead by Miami police last Saturday after he was seen, stark naked, chewing at the face of another naked man.
According to The Huffington Post, Armando Aguilar, president of the Miami Fraternal Order of Police said Eugene may have been under the influence of a drug that causes users "to go completely insane and become very violent."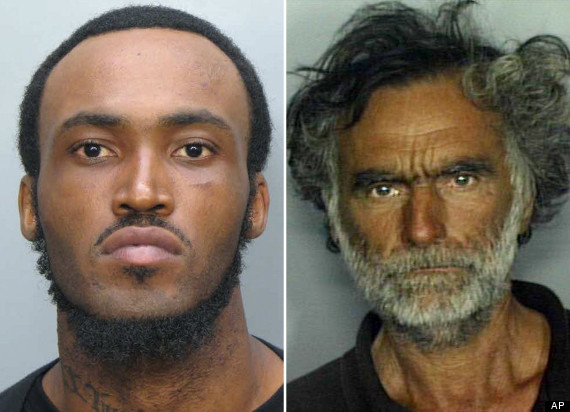 Ronald Poppo (right) and Rudy Eugene (left)
According to Forbes, 'bath salts' are highly addictive and elicit cravings similar to methampetamines.
The drug can cause severe agitation, rapid heart rate, high blood pressure, paranoia and symptoms of psychosis, including hallucinations and delusions.
It can also lead to overheating of the body, which is why so many users remove their clothing, reports The Huffington Post.
Last year, America's Drug Enforcement Administration (DEA) banned three chemicals commonly used to make bath salts: mephedrone, MDPV, and methylone, reports Reuters.
However, according to the National Institue On Drug Abuse, the synthetic powder is sold legally online and in drug paraphernalia stores under a variety of names, such as Ivory Wave, Purple Wave, Red Dove, Blue Silk, Zoom, Bloom, Cloud Nine, Ocean Snow, Lunar Wave, Vanilla Sky, White Lightning, Scarface, and Hurricane Charlie.
SUBSCRIBE TO & FOLLOW UK LIFESTYLE