A hand-made statue of the Queen made in preparation for this weekend's Diamond Jubilee celebration has been beheaded by vandals.
The statue's creator Viv Aspinall said she was furious after the tribute to the sovereign in the village of Sutton, near Woodbridge, Suffolk, was decapitated.
She said: "I kept checking on it because of the wind and it was fine until I saw the head had been pulled off.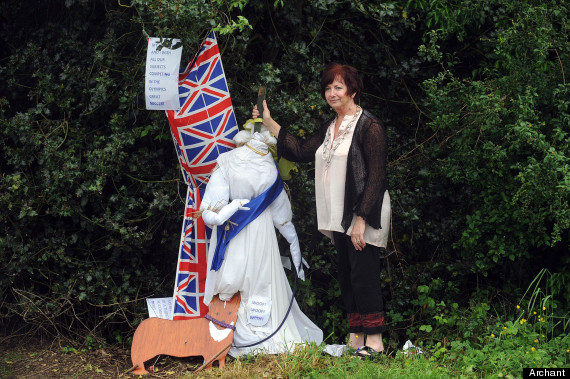 Aspinall says the act shows a lack of community spirit
"It has really angered me - we did this to make Sutton look good for the community."
The statue has been left on the spot, the head having been replaced by a bitter note that reads: "The Queen's head has been stolen by someone lacking community spirit."
Sue Collins, secretary of the village hall, told the East Anglian Daily Times that she suspected the head was spirited away and appealed for its swift return.
"At first I thought it had been blown off but it couldn't be found," she said. "It has obviously been taken by someone up to high jinx.
"It's such a shame after we had a lovely weekend. We had more than 150 visitors to the village for the open gardens event but it all seems marred by this."