Hundreds of Tamil activists have gathered on Pall Mall in protest against the Sri Lankan president as he attends a lunch for Commonwealth leaders with the Queen.
Mahinda Rajapaksa, who has been accused of presiding over human rights abuses, cancelled a speech he was due to give prior to the lunch, amid fears it would spark demonstrations in the capital.
Rajapakse was seated on the table directly to the Queen's left with Babli Sharma, wife of the Commonwealth Secretary- General, Namibian President Hifikepunye Pohamba and his wife, and New Zealand Prime Minister John Key and his wife.
The 11 tables were named after flowers, with the Queen seated on the Golden Wattle table.
Sharma welcomed the guests, saying: "It gives me great pleasure to welcome you all on this very special day in the history of the Commonwealth."
The guests were served a Brie and avocado terrine followed by wild sea bass then an apple crumble souffle, apple pie ice cream and caramelised apple.
The meal was accompanied by South African wines.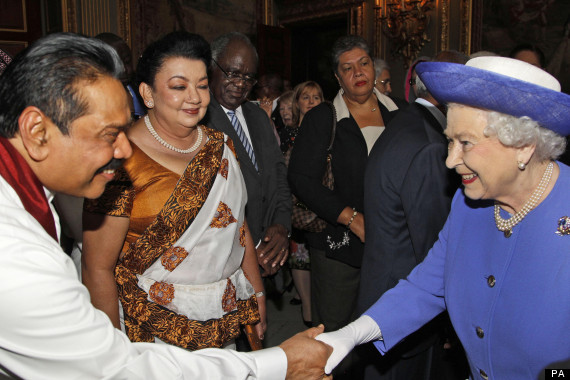 The Queen shaking hands with Sri Lankan president Rajapaksa
After she arrived at the lunch The Queen spent a brief moment with Rajapakse and appeared to fleetingly shake hands with him as she met guests at a reception in the Blenheim Saloon inside Marlborough House.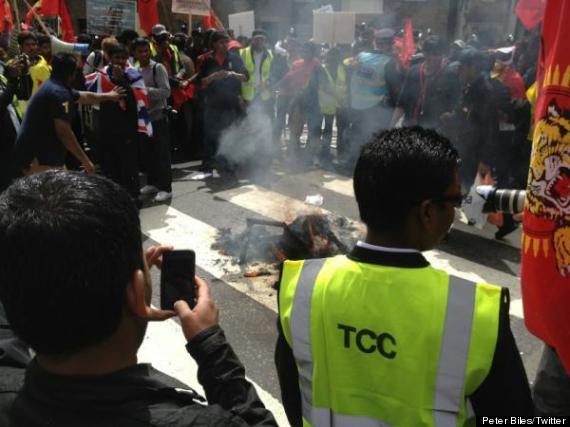 Demonstrators burnt an effigy of Rajapaksa outside Marlborough House
A spokesperson for the police told Channel 4 News the CBC had "decided it was not in their interest to stage the event" due to the extent of protection required amid expected protests over the treatment of Tamils.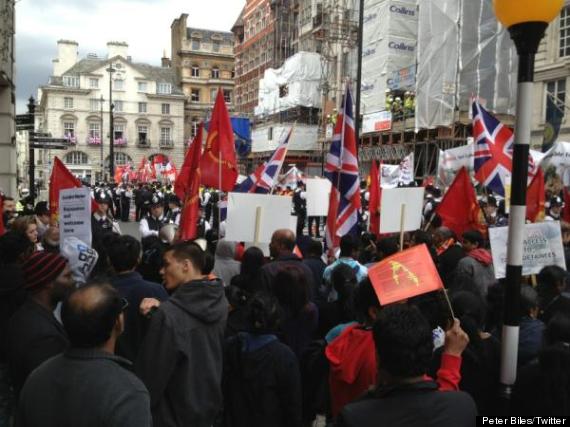 Demonstrators gathered outside Marlborough House where President is due to lunch with Queen
Tickets for the Commonwealth Economic Forum special meeting had been pre-sold at £795 each, plus VAT.
Sen Kandiah, founder of the British Tamil Forum, told the Guardian "common sense" had prevailed.
"There is now enough evidence that allegations of war crimes in Sri Lanka lead directly to the president himself. That is why British government officials are reluctant to meet him. He is not welcome here."
SUBSCRIBE TO & FOLLOW UK DAILY BRIEF