A gang who shot at officers during last summer's riots have been given sentences of up to 30 years for what a judge described as a "concerted attack on the police".
The men "lured" the officers to a pub fire in Birmingham before opening fire.
Today Judge William Davis jailed all six at Birmingham Crown Court for a range of offences including rioting, reckless arson and firearms possession.

The gang were given sentences of up to 30 years on Thursday


Nicholas Francis, 26, described by the judge as "clearly a dangerous man", received 30 years.
Jermaine Lewis, 27, was jailed for 23 years.
Tyrone Laidley, 20, was also jailed for 23 years.
Renardo Farrell, 20, and Wayne Collins, 25, were both jailed for 18 years.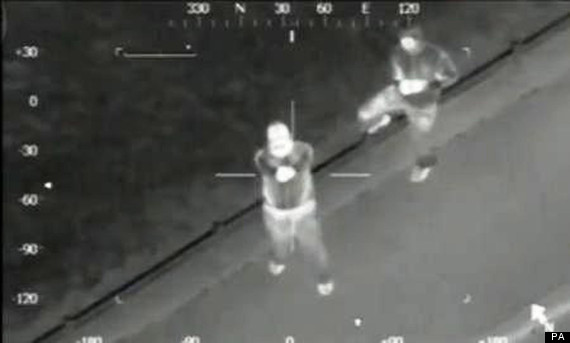 Handout CCTV still issued by West Midlands Police of a gunman firing at a police helicopter


And a 17-year-old, who can now be named as Amirul Rehman after the judge lifted an order, was jailed for 12 years.
All six were convicted at the same court following a six-week trial.