She may have been getting her nipple out on stage the night before, but Madonna played it much more conservatively as she stepped out with her beau last night.
The superstar kept her breasts firmly under wraps in a polka dotted black dress as she dined with toyboy Brahim Zaibat in Rome. Madge, 52, and 24-year-old Brahim jetted to Rome ahead of her MNDA tour stopping there on Tuesday night.
The pair looked as close as ever as they walked the streets, suggesting that Madonna may have accepted his rumoured proposal. Brahim reportedly popped the question to Madge back in March, and she was thought to be mulling it over.
However, since then nothing official has been confirmed, but a source told the Daily Mail at the time: "Brahim asked Madonna to marry him at the centre a few weeks ago, but Madonna hasn't given him an answer yet. She doesn't want to rush into anything.
"She is very happy with Brahim, although her friends are not sure she is ready for marriage again.
"That said, Madonna has a real fear of being on her own. It's a major issue for her, and she loves having a man in her life who is young and makes her feel young."
On Saturday night, Madge tried to prove her youth by unleashing her nip while on stage in Istanbul.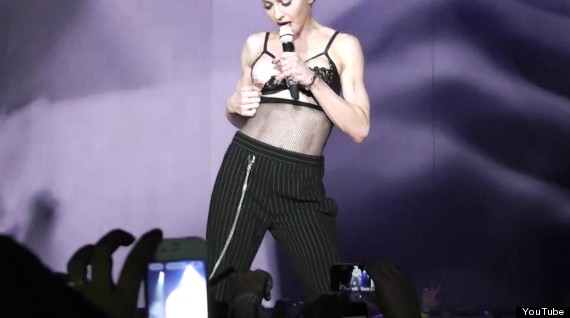 Oops: Madonna shows off her support act
She was in the middle of performing her hit Human Nature when she purposely flashed her nipple in what clearly wasn't a Janet Jackson-esque wardrobe malfunction.
Put it away love.
Loading Slideshow
Madonna

U.S pop icon Madonna at the Ramat Gan stadium near Tel Aviv, Israel, Thursday, May 31, 2012. Madonna launch her hotly-anticipated MDNA world tour with a show in Tel Aviv, kicking off a roadtrip of more than 30 countries in what will be her longest-ever stint on the road. (AP Photo/Ariel Schalit)

TEL AVIV, ISRAEL - MAY 31: Madonna performs on stage during her "MDNA" tour at Ramat Gan Stadium on May 31, 2012 in Tel Aviv, Israel. (Photo by Kevin Mazur/WireImage)

US pop icon Madonna (C) performs on stag

US pop icon Madonna (C) performs on stage during her first MDNA world tour concert in the Ramat Gan Stadium, near Tel Aviv, on May 31, 2012. Madonna's Tel Aviv concert sold 32,000 tickets and it is the first in her world tour spanning 30 countries and 86 concert dates to promote her new MDNA album. AFP PHOTO / JACK GUEZ (Photo credit should read JACK GUEZ/AFP/GettyImages)

TEL AVIV, ISRAEL - MAY 31: Madonna performs on stage during her "MDNA" tour at Ramat Gan Stadium on May 31, 2012 in Tel Aviv, Israel. (Photo by Kevin Mazur/WireImage)

Madonna

U.S pop icon Madonna performs at the Ramat Gan stadium near Tel Aviv, Israel, Thursday, May 31, 2012. Pop music star Madonna is kicking off her new world tour in front of tens of thousands of ecstatic fans in Israel. (AP Photo/Ariel Schalit)

US pop icon Madonna performs on stage du

US pop icon Madonna performs on stage during her first MDNA world tour concert in the Ramat Gan Stadium, near Tel Aviv, on May 31, 2012. Madonna's Tel Aviv concert sold 32,000 tickets and it is the first in her world tour spanning 30 countries and 86 concert dates to promote her new MDNA album. AFP PHOTO / JACK GUEZ (Photo credit should read JACK GUEZ/AFP/GettyImages)

Madonna

U.S pop icon Madonna performs at the Ramat Gan stadium near Tel Aviv, Israel,Thursday, May 31, 2012. Pop music star Madonna is kicking off her new world tour in front of tens of thousands of ecstatic fans in Israel. (AP Photo/Ariel Schalit)

US pop icon Madonna (C) performs on stag

US pop icon Madonna (C) performs on stage during her first MDNA world tour concert in the Ramat Gan Stadium, near Tel Aviv, on May 31, 2012. Madonna's Tel Aviv concert sold 32,000 tickets and it is the first in her world tour spanning 30 countries and 86 concert dates to promote her new MDNA album. AFP PHOTO / JACK GUEZ (Photo credit should read JACK GUEZ/AFP/GettyImages)

US pop icon Madonna (C) performs on stag

US pop icon Madonna (C) performs on stage during her first MDNA world tour concert in the Ramat Gan Stadium, near Tel Aviv, on May 31, 2012. Madonna's Tel Aviv concert sold 32,000 tickets and it is the first in her world tour spanning 30 countries and 86 concert dates to promote her new MDNA album. AFP PHOTO / JACK GUEZ (Photo credit should read JACK GUEZ/AFP/GettyImages)

US pop icon Madonna performs on stage du

US pop icon Madonna performs on stage during her first MDNA world tour concert in the Ramat Gan Stadium, near Tel Aviv, on May 31, 2012. Madonna's Tel Aviv concert sold 32,000 tickets and it is the first in her world tour spanning 30 countries and 86 concert dates to promote her new MDNA album. AFP PHOTO / JACK GUEZ (Photo credit should read JACK GUEZ/AFP/GettyImages)

Madonna "MDNA" World Tour Opener

TEL AVIV, ISRAEL - MAY 31: Madonna performs during the opening concert of her 'MDNA' World Tour at Ramat Gan stadium on May 31, 2012 in Tel Aviv, Israel. (Photo by Ilia Yefimovich/Getty Images)

Madonna "MDNA" World Tour Opener

TEL AVIV, ISRAEL - MAY 31: Madonna performs during the opening concert of her 'MDNA' World Tour at Ramat Gan stadium on May 31, 2012 in Tel Aviv, Israel. (Photo by Ilia Yefimovich/Getty Images)

Madonna

Madonna

U.S pop icon Madonna performs at the Ramat Gan stadium near Tel Aviv, Israel,Thursday, May 31, 2012. Pop music star Madonna is kicking off her new world tour in front of tens of thousands of ecstatic fans in Israel. (AP Photo/Ariel Schalit)

Madonna

U.S pop icon Madonna at the Ramat Gan stadium nearTel Aviv, Israel, Thursday, May 31, 2012. Madonna launch her hotly-anticipated MDNA world tour with a show in Tel Aviv, kicking off a road trip of more than 30 countries in what will be her longest-ever stint on the road. Pop music star Madonna is kicking off her new world tour in front of tens of thousands of ecstatic fans in Israel. (AP Photo/Ariel Schalit)

Madonna

U.S pop icon Madonna at the Ramat Gan stadium near Tel Aviv, Israel, Thursday, May 31, 2012. Madonna launch her hotly-anticipated MDNA world tour with a show in Tel Aviv, kicking off a roadtrip of more than 30 countries in what will be her longest-ever stint on the road. (AP Photo/Ariel Schalit)

Israelis dance during a party in a club of Tel Aviv to celebrate the arrival of Madonna in Israel, early Saturday, May 26, 2012. The Madonna 2012 World Tour will start on May 29 in Tel Aviv. (AP Photo/Dan Balilty)

US pop icon Madonna performs on stage du

US pop icon Madonna performs on stage during her first MDNA world tour concert in the Ramat Gan Stadium, near Tel Aviv, on May 31, 2012. Madonna's Tel Aviv concert sold 32,000 tickets and it is the first in her world tour spanning 30 countries and 86 concert dates to promote her new MDNA album. AFP PHOTO / JACK GUEZ (Photo credit should read JACK GUEZ/AFP/GettyImages)

US pop icon Madonna performs on stage du

US pop icon Madonna performs on stage during her first MDNA world tour concert in the Ramat Gan Stadium, near Tel Aviv, on May 31, 2012. Madonna's Tel Aviv concert sold 32,000 tickets and it is the first in her world tour spanning 30 countries and 86 concert dates to promote her new MDNA album. AFP PHOTO / JACK GUEZ (Photo credit should read JACK GUEZ/AFP/GettyImages)

Madonna "MDNA" World Tour Opener

TEL AVIV, ISRAEL - MAY 31: Madonna performs during the opening concert of her 'MDNA' World Tour at Ramat Gan stadium on May 31, 2012 in Tel Aviv, Israel. (Photo by Ilia Yefimovich/Getty Images)

TEL AVIV, ISRAEL - MAY 31: Rocco Ritchie and Madonna perform on stage during her 'MDNA' tour at Ramat Gan Stadium on May 31, 2012 in Tel Aviv, Israel. (Photo by Kevin Mazur/WireImage)

TEL AVIV, ISRAEL - MAY 31: Rocco Ritchie and Madonna perform on stage during her 'MDNA' tour at Ramat Gan Stadium on May 31, 2012 in Tel Aviv, Israel. (Photo by Kevin Mazur/WireImage)

TEL AVIV, ISRAEL - MAY 31: Rocco Ritchie and Madonna perform on stage during her 'MDNA' tour at Ramat Gan Stadium on May 31, 2012 in Tel Aviv, Israel. (Photo by Kevin Mazur/WireImage)
Also on HuffPost: