The designer of the innovative Nissan Deltawing that crashed out at Le Mans believes the car and team have done enough to warrant further races even though its uniqueness means it has no obvious racing outlet.
There was huge disappointment around Le Mans and beyond when the radical car retired after seven hours - more so because its demise was through no fault of its own.
The innovative bird-like car, powered by a 4 cylinder 1.6-litre Nissan DIG-T (Direct Injection Gasoline-Turbo) engine, was the result of a collaboration between Highcroft Racing and American Le Mans Series founder, Don Panoz., and had entered the 24 Hours in the Garage 56 class, a unique class instigated by the Le Mans organisers, the ACO, for cars displaying new technologies.
Coming into the Porsche Curves near the end of the lap, Kazuki Makajima in the #7 Toyota Racing TS030 HYBRID attempted to pass the Deltawing on a crowded part of the circuit. The two cars touched and the Deltawing was sent off the track into the concrete walls. By that stage, the Deltawing had completed 1005km, more than a number of race distances in the World Endurance Championship of which Le Mans now forms a part.
What happened next was a demonstration of the true Le Mans spirit; driver Satoshi Motoyama attempted to fix the damage as well as he could in order to get the car back to the pits so the team could take over the repairs. Team members were despatched to the scene so they could talk to Motoyama but under Le Mans regulations they weren't allowed to help. Each car carries a number of tools so drivers can attempt repairs but after 90 minutes of painstaking work, the Japanese driver and the team had to admit defeat and the car was withdrawn.
There was palpable disappointment around Le Mans for the team's retirement while on Twitter, there were plenty of commiserating messages.
The Deltawing's designer Ben Bowlby was upset with the car's retirement but still delighted with what had been achieved.
"I'm upset but I'm also elated," he told The Huffington Post UK.
"Motor racing has the ability to change people's approach to technology. That's a cool thing to be able to do. A lot of people didn't believe the car would work and discovering that it actually had performance potential surprised everybody. We discovered it was a very cool car. Every time the drivers got out they had these massive grins on their faces. It was stable, super light and incredibly fun to drive. The team has done a super job.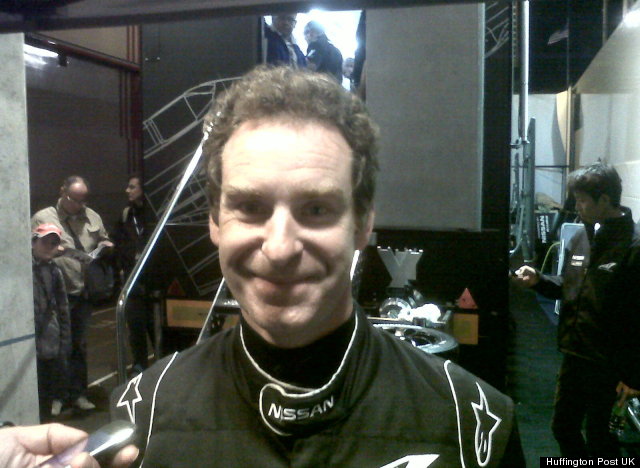 Designer Ben Bowlby was proud of what the Deltawing had achieved
"I was actually just beginning to think 'we'd better plan the finishing of this thing because it's running like a train' and there wasn't a single shred of evidence of anything going wrong. We had a silly air cylinder failure which let us down but that was it.
"It was running exactly where we expected to run and it was our goal to be running at the end of the 24 hours. It really looked like it was going to make it, I think it would have done."
Because the Deltawing is literally in a class of its own, there doesn't appear to be any other options for it to demonstrate its potential on the race track, but Bowlby believes the team has done enough to force the issue.
"This is the great and interesting question. Nobody was quite sure how this was going to work out but clearly there is life for the Deltawing after Le Mans.
"We have to go and lobby for a way to let the car be seen again. It's highly relevant to the auto industry, you can see that for both Nissan and Michelin it's a huge deal and so to put a lid on it, to cap it, pretend it never happened, would be a tragedy. And now I don't think the fans will let that happen. We've gained a lot of fans, that's people power, that's why you sell cars and that's why you go motor racing.
"I'm so pleased that innovation can clearly be interesting and motivating. Just look at the results."
SUBSCRIBE TO & FOLLOW UK SPORT