Mario Balotelli has been depicted as an immigrant worker by a right-wing Italian politician in a possibly racially-motivated incident.
The photoshopped image was posted on Facebook by Paolo Ciani in which Balotelli is shown in a cabbage field, a reference to many African and South American immigrants in Italy who labour as vegetable harvesters.
Ciani, of the Future and Liberty party, then posted a picture of himself at a council meeting with a black person, much alike Sepp Blatter's move after he was accused of stating racism in football "did not exist" in November.
Fifty-one-year-old Ciani said: "How can they accuse me of racism. I work with non-European Union nationals. This is the best response to this presumed racism."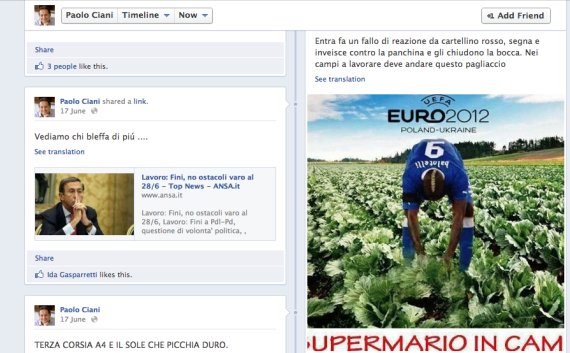 Ciani's Facebook profile listing the post
"What I was doing was making a footballing comment, I was highlighting how Balotelli had committed a bad foul which could have got him sent off — then his reaction after scoring was so over the top one of his team mates had to put his hand over his mouth.
"I believe that Balotelli with his extravagance and vision on life is a poor example for the younger generation. I said he had to go to work because that is a common phrase. Once we used to say focus on fishing but now we say go to work."
Ciani, 50, captioned the picture with claims the 23-year-old had attempted to vent his anger against the Azzurri's managerial staff. Yet a team-mate covered his mouth.
The Manchester City striker, born in Italy to Ghanian immigrants, has been subjected to racist abuse by both Spanish and Croatian fans in Ukraine and Poland.