A gunman who shot an Indian student dead at close range gave a "sarcastic laugh" after pulling the trigger, a jury heard on Tuesday.
A friend of Anuj Bidve, 23, said he saw him fall to the ground face-first after hearing a bang which he initially thought was a firecracker.
Kiaran "Psycho" Stapleton, 21, walked quickly up to the group of friends in the street in Ordsall, Salford, in the early hours of Boxing Day last year.
He calmly asked them three times what the time was and, when someone answered, he pulled out a gun without warning, put it to Mr Bidve's head and fired one shot.
Stapleton, of Regent Square, Ordsall, admits manslaughter on the grounds of diminished responsibility but denies murder.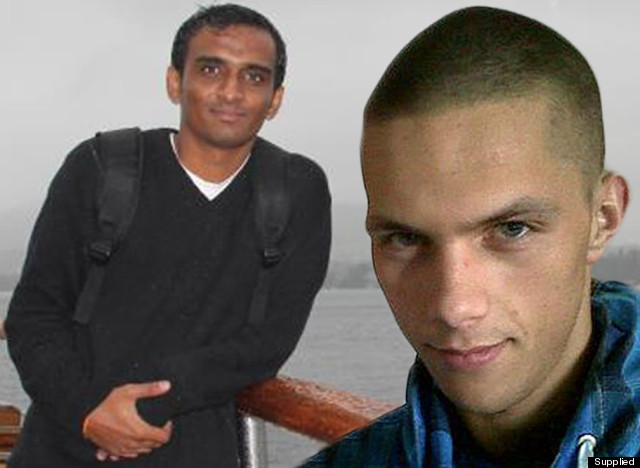 Bidve was killed in the Boxing Day attack and Stapleton admits to killing the student
Mr Bidve's friend Nitish Jalali, 22, told a jury at Manchester Crown Court that he felt "anxious" when a man wearing a white hoodie "instantaneously" walked towards them. Mr Jalali asked his friends to ignore him.
"He came over and he asked what the time is and we did not respond the first time," he told the jury.
He said he immediately asked the same question and finally got an answer of 1.30am from a member of the group on the third occasion.
Then he pulled the trigger, Mr Jalali said.
A second witness, Sarang Kulkarni, said he saw the man in the hooded top laughing as he stood behind Mr Bidve, who was on the ground.
"I did not hear the laughter but I did see him laugh. I saw an expression on his face which I thought was of laughter," he said.
Giving evidence behind a curtain like the earlier witnesses, Sourav Mukherjee said he held Mr Bidve after he fell to the ground.
He said: "He was not responding, he seemed to be out cold.
"His eyes were half-shut, I could hear slight breathing. I tried talking to him but he did not respond.
"I held his head and saw the wound."
The trial continues.
READ MORE: