The housing market really has crashed if this art installation is anything to go by - a 70,000 cottage built to look as though it has crash-landed on top of a university campus.

The bizarre installation, at the University of California, San Diego, looks like a scene from the Wizard of Oz - as though a tornado could have dragged it all the way from Kansas.

But the life-size cottage is actually known as Falling Star - and is the culmination of seven years of work by artist Do Ho Suh.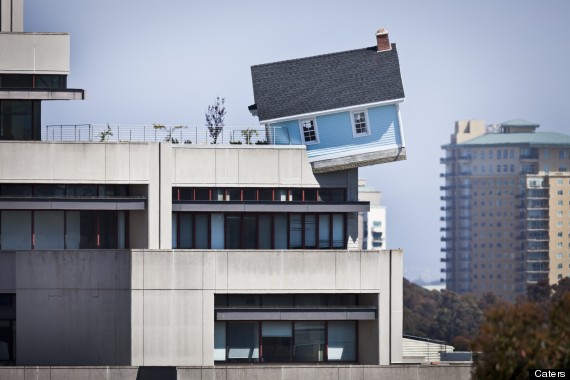 Falling Star by Do Ho Suh

Falling Star sits on top of the Engineering building on the university campus - cantilevered at an angle from a corner of the seventh floor.

It was built as a three-quarter size replica of a house in Providence, Rhode Island, and completed last Autumn - before being finally hoisted 100 feet into the air by America's largest crane.

It has since been furnished and accessorized. Its garden is growing: There's a plum tree, a wisteria vine, tomatoes and more. Lights flicker on at night; a TV, too. And steam, simulating smoke, sometimes rises from the chimney.

Visitors have been amazed by the tiny details of the house's decor - including family photos and a remote control - and left in awe by the amazing views - although several have reported suffering from vertigo.

Importantly, the installation conforms to California earthquake building codes and was built to withstand 100 mph winds. Its foundation is 18 inches thick, compared to the usual 4 inches, but visitors are perceptually tricked into feeling like they're falling.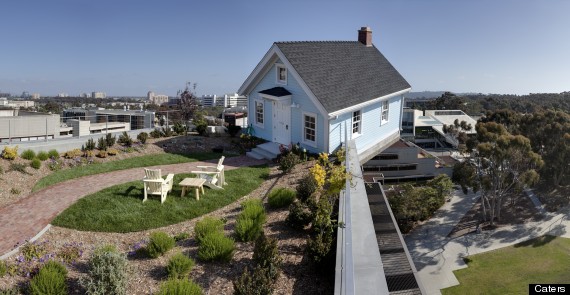 The view from the top is far less worrying...
Suh said he'd like to see visitors, especially students, connect with the work. When the Korean-born artist first came to the United States, to study at the Rhode Island School of Design in 1991, he recalls feeling "as if he was dropped from the sky." He had to physically and mentally readjust.

Mary Beebe, director of the Stuart Collection at UC San Diego, said the work explores that feeling of displacement and the notion of "home."

She said: "I hope that these ideas are relevant for students, many of whom have left their homes for the first time and come from afar. "Home" - where we come from, where we are and how we got here - is a question we can all ponder".

The project is supported entirely by private donations to the Stuart Collection and a $90,000 (£57,600) grant from the National Endowment for the Arts.
Loading Slideshow
Caters

Caters

Caters

Caters

Caters